Fisco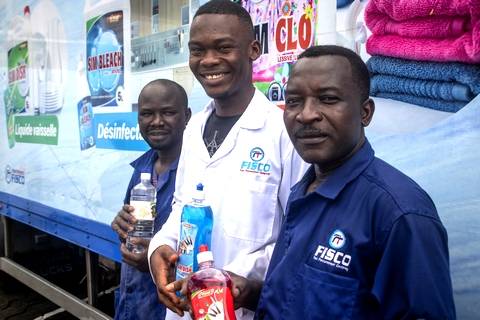 Associed fund
:
I&P Accélération, I&P Accélération au Sahel
Fisco is a Cameroonian company that markets household products (detergents, bleach, etc.) and para-pharmaceutical products (hydro-alcoholic gels, alcohol, etc.). The company has an artisanal production unit in Bonabéri, in Douala and has activities that now extend to 3 regions of the country (Littoral, Centre, North).
THE ENTREPRENEUR
Fisco was created by Joel Sikam, a Cameroonian with a degree in finance (Bachelor's degree from the University of North Texas). After starting his career in the United States in equity and wealth management with family offices, he returned and founded his own company. Joël Sikam is also very active in the GICAM which is the employers' association of Cameroon.
PURPOSE OF THE FUNDING
Fisco is supported by I&P through I&P Acceleration in Sahel. The funding granted will upgrade in safety and quality by financing the facilities and the acquisition of the necessary equipment. The program will also allow the company to finance the acquisition of a new vehicle for distribution and to support the company in the execution of its communication strategy.