Frija Décor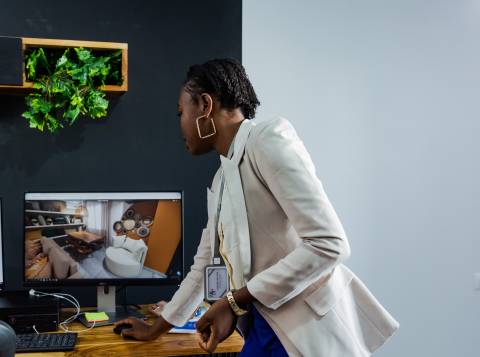 Associed fund
:
I&P Accélération au Sahel, Teranga Capital
Entrepreneur
:
David AMEDEKA  et Caroline YOUL
Frija Décor is a company specialized in the fabrication of wood, metal and upholstery furniture in Senegal.
The company operates in Dakar and collaborates with a network of local artisans. In two years of activity, this young company has already achieved a good reputation allowing to build up a portfolio of customers consisting of individuals and companies including restaurants, hotels, etc.
The entrepreneurs
Frija Décor was founded by a couple, David AMEDEKA and Caroline YOUL:
David AMEDEKA is a young entrepreneur, trained as a lawyer and has had 5 years of professional experience in communication, sales, teaching of law and marketing before starting his own business. He is in charge of the e-comerce platform and the monitoring of KPIs, the planning and implementation of sales and marketing programs, as well as pricing.
Caroline YOUL studied Banking and Financial Engineering, with experience in financial analysis through internships and volunteer missions. Within the company, Mrs. YOUL is in charge of the elaboration and follow-up of the dashboard, the follow-up of the customers, the management of the suppliers and the quality control.
Partnership with I&P and Teranga Capital
Frija Décor benefits from I&P Acceleration in Sahel implemented in Senegal by Teranga Capital whose objectives are to :
progressively internalize production to ensure product quality, shorten delivery times and increase production capacity
support the company in its formalization
increase the company's market share