Genemark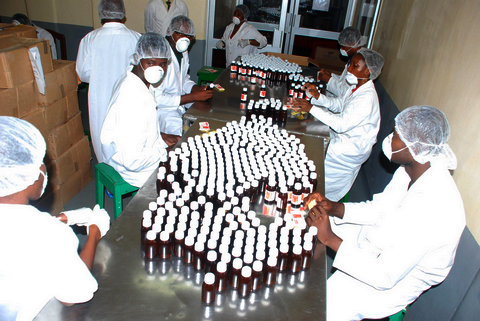 Entrepreneur
:
Gisèle Etamé
GENEMARK processes generic drugs (anti-infectious, anti-parasitic, anti-inflammatory …) and aims at the largest distribution scale thanks to an offer 30% to 50% cheaper than classical drugs. Genemark developers favor the production of liquid drugs (15 references over 27) in order to reduce overdose risks, particularly high in paludism treatments for children.
Report on Genemark (in French)
THE ENTREPRENEUR
Gisele Etamé decided in 2003 to launch her own pharmaceutical laboratory. As a Doctor in pharmacy, she took the opportunity to develop pharmaceutical products available for all after the Cameroonian Ministry of Health authorized the sale of generic medicine. Thanks to her strife over the last decade, Genemark is now a major label in the local pharmaceutical industry.
PARTNERSHIP WITH I&P
I&P is committed alongside GENEMARK:
• To enable the reference range enlargement
• To finance the production capacity growth
• To keep a watch over the products quality
• To supervise the deployment of a sales force
• To improve the governance
KEY IMPACTS
• Number of jobs created or maintained: 20
• Genemark has improved the access to health by offering medicines 30 to 50% less expensive than licensed medicines
• Turnover annual growth on average since 2008: +14%