Gona Maroquinerie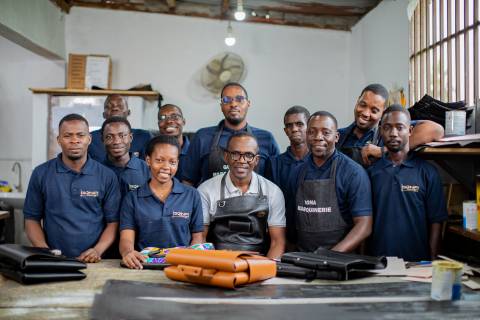 Associed fund
:
I&P Accélération au Sahel
Entrepreneur
:
Jean Cyrille Ahoua Gona
Gona Maroquinerie is an Ivorian company specializing in leather goods, particularly in the production of office items (conference folders, diaries), handbags or travel bags, pocket items, watch straps, wallets, and other accessories made of leather and imitation leather.
The entrepreneur
The company was founded by Jean Cyrille Ahoua Gona in 2014.
Autodidact, Mr. Ahoua is now a specialist in leather goods and shoe repair and has more than 33 years of experience in this sector. Accountant training, he began his professional career, far from the craft, as a sales manager in a company of Import / Export. Attracted by the idea of learning a trade, he left the company after two years and started working in the shoe industry.
His talent and his commitment to the leather goods sector have enabled him to win several prizes and distinctions at the national and sub-regional level :
2nd prize in the National Competition of Young Ivorian craftsmen (1998)
3rd Prize of Excellence of the Best Craftsman (2014)
1st Prize for Innovation at the National Exhibition of Social and Solidarity Economy in Morocco (2017)
3rd Prize for Circular Economy at the Salon Tournant de l'Economie Sociale et Solidaire in Senegal (2019)
2nd Prize at the Ivorian Handicraft Market (2021)
Mr. Ahoua is recognized as an approved trainer by the Fund for the Development of Vocational Training (FDFP) in the framework of Technical and Vocational Training in Côte d'Ivoire. He is also the President of the Union of Shoemakers, Bootmakers, Leatherworkers and Tanners of Côte d'Ivoire and the Vice President of the African Confederation of Leather Industries (Coafric)
Partnership with I&P and Comoé Capital
Gona Maroquinerie is supported by I&P Acceleration in Sahel program, which is implemented in Côte d'Ivoire by Comoé Capital sponsored by I&P. The support will essentially allow the company to increase its production capacity. Gona Maroquinerie will also benefit from the support of several consultants who will strengthen the brand's reputation, improve the production process and the quality of the articles, and revitalize the company's accounting and commercial functions.