Institut Académique des Bébés (IAB)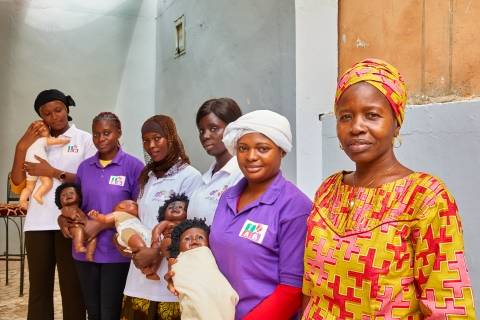 Associed fund
:
I&P Accélération au Sahel
The Institut Académique des Bébés (IAB) is a training school dedicated to the professional and technical training of children's professions. At the end of a one-year course, a professional certificate of specialization, issued by the Ministry of Training, is delivered to learners, allowing them to be employed as facilitators, educational assistants or assistants in nurseries, maternity wards, leisure centers or at private homes. The Academic Institute of Babies also has crèches for children aged 3 to 19 months.
THE ENTREPRENEUR
IAB was founded by Fa Diallo, a Senegalese-Guinean woman who grew up in Senegal before moving to France to study finance/accounting. Fa Diallo worked for a long time in accounting and finance while taking early childhood training. She has worked for more than 10 years in local authorities on early childhood issues, notably in Nancy's day care centers, at the Foyer des Jeunes Travailleurs de Nancy and at Nancy's regional maternity hospital. Fa returned to Senegal in 2016 and began the process of starting the Institut Académique des Bébés in 2017.
I&P' CONTRIBUTION
IAB benefits from support through the I&P Acceleration in Sahel program dedicated to education and employment (IP2E).
EXPECTED IMPACTS
IAB's funding and support is aimed at :
Increase its capacity: space for an additional classroom that will increase the capacity by 50%
Set up a laboratory daycare that can accommodate 11 babies (from 3 to 18 months)
Develop an online platform in order to make accessible to learners living in the regions
Recruit staff to strengthen the current team