ITG Store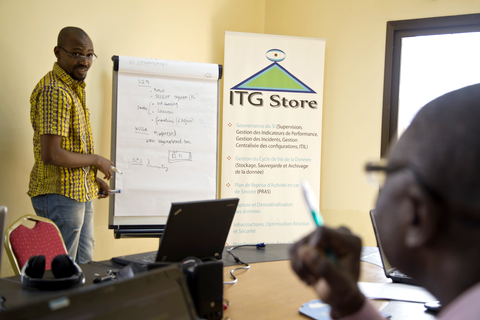 Entrepreneur
:
Jean Gabriel Fopa & Eric Heslot
ITG Store is an IT services company offering service and infrastructure integration. The company creates a strong local added value through management information systems, data storage and other services. Relying on a local team of expert engineers, ITG has earned the trust of major clients operating in the region.
Though the African SI market is booming, it still remains overwhelmed by foreign companies. ITG Store has easily overcome this strong competition thanks to same-level quality services at lowest prices. The company creates a strong local added value through SI management, data storage and other services. Its CEOs, computer engineers Gabriel Fopa and Eric Heslot relies on a young team they have trained within the company.
ITG is now the exclusive African computing partner of Bolloré, one of the most powerful financial and industrial French conglomerates.
THE ENTREPRENEURS
Gabriel Fopa and Eric Heslot were both computing engineers at the SSI company SILICOMP. In 2006, they decided to create their own SSII in Douala. The entrepreneurs financed all the equipment and software with their own capital. Then, they trained a team of engineers and technicians recruited locally. Since 2007, the company won a great number of bids and tenders, constituting a thick portfolio of big firms.
PARTNERSHIP WITH I&P
I&P is committed alongside ITG Store to:
• To accompany the strong growth of its activities, particularly with regard to internal infrastructures and working environment
• To bring financings addressed to the creation of a test and training center to fill the structural lack of qualified local human resources in this sector.
• Construction of green building for the new headquarters and data center
• Ensure basic healthcare cover for employees
KEY IMPACTS
• Number of created jobs: 73, including 11 women and a large majority of high-skilled employees
• Development and promotion of local skills in the computing field
• Recruitment policy toward young degreed and continuous training of employees.
• Company governance structuration