Keiwa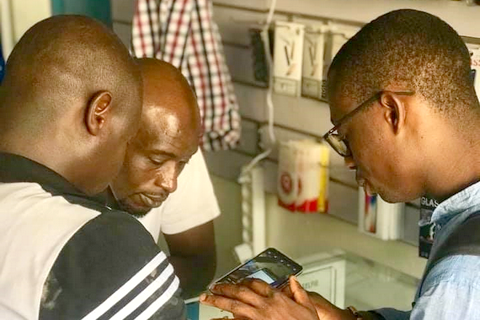 Associed fund
:
I&P Accélération Technologies, Comoé Capital
Entrepreneur
:
Fabrice KOFFI, Bertrand DAGO, Terrence KONDOU
Keiwa is a simplified app dedicated to accounting, financial, and reserve management created by three young Ivorians, Fabrice KOFFI, Bertrand DAGO, and Terrence KONDOU.
The app is for African SMEs with a monitoring need for their day-to-day operations, structures with several sites, and partners providing services to these SMEs (suppliers, financial institutions, and telecom operators).
With this app, the user can save its daily operations, manage its stocks and access a clear activity report in real-time. Keiwa also allows one to monitor its activities remotely and share selective information with selected partners.
Keiwa platform is available on Apple and Google Stores and the web.
The entrepreneurs
Keiwa was co-founded by three young Ivorians, Fabrice KOFFI, Bertrand DAGO, and Terrence Kondou.
Fabrice Koffi is Keiwa's CEO. He has a Bachelor's Degree in Accounting. He accumulates several years of experience in various consulting firms (Administrative and Financial Manager of Agritecno West Africa, Partner and co-manager of Urim Thummim Conseil).
Bertrand Dago is co-founder and CTO of KEiwa. He has a Diploma of Higher Technician in Electronic and Computer Systems (2013).
Terrence Kondou is a co-founder and Programmer. He holds a Master's degree in Computer Engineering (2017) and a Bachelor's degree in Computer Methods Applied to Business Management.
Partnership with I&P
Keiwa is financed and supported by I&P Acceleration Technologies, a €2,5 million program aiming at financing and supporting some fifteen digital start-ups in sub-Saharian Africa. This program is supported by the Digital Africa initiative (AFD).
The partnership notably aims at;
• Reinforcing commercial and marketing teams
• Supporting the pan-African development of the app
Expected impacts
• Support for the financial inclusion of the informal sector
• Evolution of teams' working conditions
---
About I&P Acceleration Technologies
Launched in December 2019 with the support of the AFD through the Digital Africa initiative, I&P Acceleration Technologies is a €2.5 million program aiming to finance and support around 15 digital start-ups in Sub-Saharan Africa, with a focus on the West Africa, Central Africa, and Madagascar zones.
About Comoé Capital
Comoé Capital is the first impact investment fund dedicated to financing and supporting Ivorian SMEs and start-ups.
Headed by Issa Sidibé, Comoé Capital is the fifth African fund sponsored by Investisseurs & Partenaires as part of the I&P Development 2 fund. Up to date, the network of funds includes a fund in Niger (Sinergi Niger), Burkina Faso (Sinergi Burkina), Senegal (Teranga Capital), and Madagascar (Miarakap).