KOOD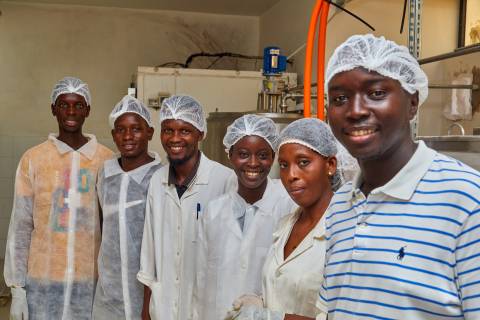 Status
:
Capital investment
Associed fund
:
I&P Accélération, I&P Accélération au Sahel, I&P Développement, Teranga Capital
Entrepreneur
:
Diadji KA et Ngoné THIAW
KOOD is a young senegalese company specialized in the production and marketing of ice cream and frozen yoghurt in different flavours (vanilla, chocolate, bouye, etc.) under the brand name MILKY in different regions of Senegal. The company was created in 2016 by Mr Diadji Ka and his wife Ngoné THIAW, and started its production in December 2017.
THE ENTREPRENEURS
Diadji KA holds a Bachelor's degree in Information Systems from the Polytechnic University of Pomona in California (CAL POLY Pomona). He worked for 10 years in the United States before deciding to come back to Senegal in 2015 and devote himself to his entrepreneurial projects to create the company KOOD where he holds the position of manager and is in charge of the coordination of activities.
Ngoné THIAW holds a master's degree in finance audit. After several experiences in Senegal in accounting firms, she decided to join her husband in the United States, then returned to Senegal with him. She held the position of production manager during the first months of KOOD's activities and is now in charge of new product development.
PARTNERSHIP WITH TERANGA CAPITAL
Teranga Capital's investment in KOOD aims to :
Support the reflection on business development
Structuring and support for the development of management methods and tools, training, etc.
Establishing contact with partner companies in Senegal and abroad
KOOD also benefits from financial support and technical assistance within the framework of the I&P Acceleration in the Sahel program, in partnership with the European Union. To cope with the unprecedented situation of covid-19, some fifteen companies benefit from technical and financial support to maintain their activities and overcome the crisis.
EXPECTED IMPACT
Implementation of an energy and waste management process.
Formalization of existing jobs, recruitment of qualified managers and manpower, improvement of working conditions.
Support for the implementation of financial and administrative management tools.
ABOUT TERANGA CAPITAL

Teranga Capital is the first impact investment fund dedicated to the financing and support of Senegalese SMEs and start-ups. Headed by Olivier Furdelle, Teranga Capital is the third African fund sponsored by Investisseurs & Partenaires under the I&P Développement 2 program. The network currently includes a fund in Niger (Sinergi Niger), Burkina Faso (Sinergi Burkina), Ivory Coast (Comoé Capital) and Madagascar (Miarakap). → Find out more about Teranga Capital