Les Marmitons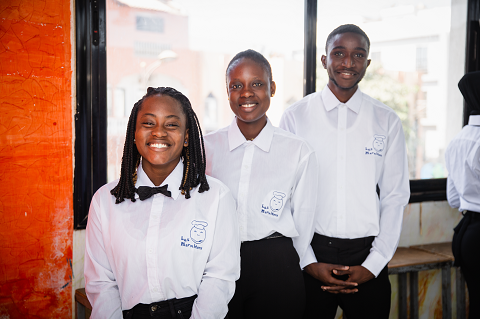 Associed fund
:
I&P Education et emploi
Les Marmitons is a technical institute for training in the gastronomy, hotel and tourism professions located in Dakar, Senegal. The institute, created in 2006, offers training in BEP, CAP, DEP, DQP and DTS1. It has 2 campuses, a main building located in Castors and an annex located in Dieupeul.
This training institution is part of the strategy initiated by the Senegalese government since the reform of 2000, which aims to strengthen support for public and private technical and vocational training. Les Marmitons has one main objective: to reinforce employability and social inclusion.
Convinced that the employability of young people goes through a practical learning, the institution has opened a restaurant-bar and has equipped kitchens on each campus, in order to offer training combining theory (30%) and practice (70%). The institution has also concluded more than 30 partnerships with renowned hotels and restaurants in the capital (King Fahd Palace, Terrou Bi Hotel, Fleur de Lys Hotel, etc.) and in the regions.
THE ENTREPRENEUR
With his passion for cooking and his diploma from the National Hotel and Tourist School (ENFHT), Sidy DIEME, has worked as a cook in many hotels (Cap Casa, Cabrousse, Novotel, Terrou-bi...) and for eminent personalities. Strong of his experience and eager to transmit his knowledge, he founded in 2006, the Training School Les Marmitons which will become the Institute Les Marmitons in 2021.
PARTNERSHIP WITH I&P
Through its I&P Education to Employment program, I&P is committed to working with the Institut Les Marmitons to:
⇒ Upgrade the technical equipment in the practical room
⇒ Strengthen the scholarship program
⇒ To install a pastry workshop
⇒ To provide a computer room and improve connectivity
⇒ To conduct a study on the application of an e-learning system
⇒ To enhance campus security and train students in emergency situations by the fire department.
⇒ To implement a student safeguard policy.
EXPECTED IMPACTS
⇒ Strengthen the students' employability and social inclusion
⇒ Improve the training quality through the acquisition of new equipment