Massaka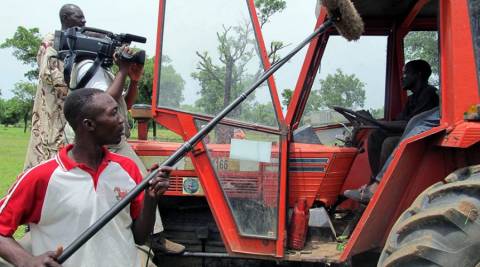 Associed fund
:
I&P Accélération au Sahel, Sinergi Burkina
Entrepreneur
:
Inoussa MAIGA et Nawsheen Bibi HOSENALLY
Massaka is a media and communication consulting company in Burkina Faso offering communication to national and international institutions, NGOs and associations. It also offers a service of media coverage and advertorial, online training via its web platform named "Agribusiness TV" whose vocation is to promote agricultural innovations and youth entrepreneurship.
The entrepreneurs
Massaka was created by 2 young entrepreneurs passionate about rural development issues:
Inoussa MAIGA : President of the company, and in charge of the coordination of the communication for development branch of activities. He holds a master's degree in information and communication technology, option communication for development from the Joseph KI-ZERBO University and an international master's degree in media management from the Ecole Supérieur de Journalisme de Lille. He has more than 10 years of experience in the field of information and communication.
Nawsheen Bibi HOSENALLY : Co-manager and in charge of the coordination of the activity branch Agribusiness TV. She holds an MSc in Management and Information Systems (Change and Development) from the University of Manchester, and a Bachelor of Science from the University of Mauritius in Agriculture, option Vulgarisation Agricole. She has over 10 years of experience in communication and media management.
Partnership with Sinergi Burkina and I&P
Massaka is supported by I&P and Sinergi Burkina through I&P Accelération in Sahel. This partnership aims at :
Strengthen the organization and structuring of the Agribusiness TV platform (access to a premium space, online training, instructional manuals, networking, etc.)
Develop editorial projects to increase the audience of Agribusiness TV and build loyalty
Acquire production and reporting equipment (journalist kits)
Strengthen the company's structure and management system
Expected impacts
Consolidation of 13 existing jobs and creation of 8 new permanent full-time jobs
Contribution to the promotion of agriculture and youth entrepreneurship
Improve the structuration and organization of the company
Contribution to the national economy through the payment of taxes to the tax authorities