MG Lab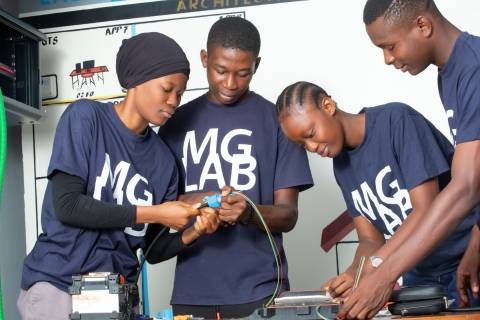 Associed fund
:
I&P Accélération au Sahel, I&P Education et emploi
MG Lab is a technical training center based in Côte d'Ivoire specialized in learning and capacity building in telecommunications and advanced technologies (fiber optics). The school provides short-term training (5 days to 6 months) targeting young graduates and professionals.
The entrepreneur
MG Lab was created in 2013 by Guy Monney, CEO of MG TELECOM & SERVICES, a company operating in the field of telecommunications since 2011 and represented in 8 African countries (Côte d'Ivoire, Mali, Burkina Faso, DRC, Congo Brazzaville, Gabon, Guinea, Togo, Benin). After having noticed a need for training for individuals and companies, he decided to create MG Lab.
Partnership with I&P
MG Lab is supported by I&P through I&P Acceleration in Sahel program dedicated to education and employment (IP2E).
The funding and support MG Lab receives aims at :
The expansion of the company through the establishment of an annex in the town of Yopougon SIPOREX in Abidjan (Côte d'Ivoire). MGLab's ambition is to settle in Yopougon at the request of prospects and customers who find the current location of the center out of place in relation to their place of residence and/or workplace.
The reinforcement of the car park by the acquisition of a 9-seater vehicle for the outings on site of the students (Ivory Coast) and of 2 vehicles of prospecting (Ivory Coast and Congo).