Nowelli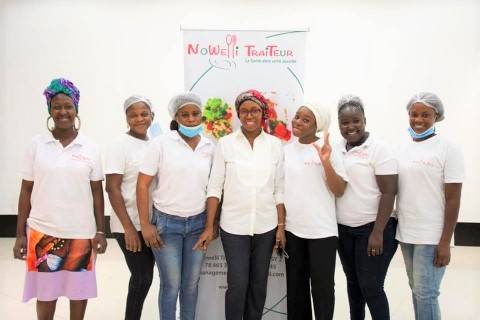 Associed fund
:
I&P Accélération, I&P Accélération au Sahel, I&P Développement, Teranga Capital
Entrepreneur
:
Mariama Diene, Mariama Selly Kane
Nowelli is a small Senegalese company that specializes in individual and collective catering (catering service and canteen management). Through its various offers, Nowelli provides its customers with healthy and balanced products, with a particular focus on reducing the amount of sugar, salt and fat.
THE ENTREPRENEURS
The company Nowelli was created by two promoters who are :
Mrs. Mariama DIENE, passionate about healthy nutrition, she has a degree in International Business from the European Institute of Higher Education and in public policy and development management from Sciences Po. She held several positions in NGOs and financial institutions before devoting herself to her passion, cooking.
Mrs. Mariama Selly Kane, who has more than 10 years of experience in individual catering and management of company canteens.
CONTRIBUTIONS OF TERANGA CAPITAL
Nowelli has benefited from I&P Acceleration in Sahel program implemented in Senegal by Teranga Capital:
To support the company in the development of a new offer for the management of school and company canteens (collective catering)
To support the company in the strategic reflexion around its positioning and the commercial development of its activities
To support the company in the reinforcement of its commercial, financial and accounting functions and the maintenance of the quality of its products and services.
ABOUT TERANGA CAPITAL

Teranga Capital is the first impact investment fund dedicated to the financing and support of Senegalese SMEs and start-ups. Headed by Olivier Furdelle, Teranga Capital is the third African fund sponsored by Investisseurs & Partenaires under the I&P Développement 2 program. The network currently includes a fund in Niger (Sinergi Niger), Burkina Faso (Sinergi Burkina), Ivory Coast (Comoé Capital) and Madagascar (Miarakap). → Find out more about Teranga Capital