Sayna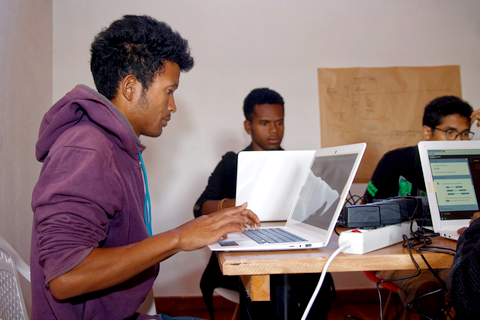 Associed fund
:
I&P Accélération, I&P Accélération Technologies
Entrepreneur
:
Matina Razafimahefa
Created in 2018 by a talented young Malagasy entrepreneur, Sayna is a startup specialized in digital training and outsourcing of IT projects, carried out by African developers via a micro-tasking platform.
Sayna intends to address a twofold problem: the lack of training in the digital sector in Africa, and the gap between the supply of digital talent and the growing demand of companies in the context of their digital transformation.
Sayna offers digital skills training and provides solutions that allow the students to enter the job market. To date, Sayna has trained nearly 200 students.
Today, Sayna aims to develop a tech startup model based on two pillars:
⇒ A paying online training platform for learners that allows them to follow, evaluate and validate their learning, but also to have access to company IT projects corresponding to the learning they have validated during their training.
⇒ A "microtasking" platform that allows companies to outsource their IT projects more efficiently, which are divided into distributed micro-tasks and assigned to freelance developers registered on the platform.
THE ENTREPRENEUR
The promoter of the project, Matina Razafimahefa, is a young Malagasy entrepreneur of 23 years old, winner of several awards. At 20 years old, she decided to stop her studies to devote herself fully to the deployment of the project and has surrounded herself with advisors and experienced business angels.
PARTNERSHIP WITH I&P ACCELERATION TECHNOLOGIES AND MIARAKAP
Sayna is financed and supported by I&P Acceleration Technologies, a €2.5 million program aimed at financing and supporting fifteen digital start-ups in Sub-Saharan Africa, supported by the French Development Agency (AFD) through the Digital Africa initiative.
As such, Sayna benefits from a €100,000 repayable advance from the I&P Acceleration Technologies program to :
⇒— Finalize and launch the micro tasking platform
—⇒ Roll out the training programs in partnership with a leading player in Bootcamp training, Holberton (Silicon Valley)
⇒ Train 200 students by the end of 2021
NEXT STEPS AND EXPECTED IMPACTS
Sayna's ambition is to :
—• Enable 8,000 people in Africa to enter the digital industry through its training and have more than 3,500 people working on its micro task platform.
•— Meet the IT needs of 300 SMEs and start-ups in the French-speaking world.
—• Complete a Series A fundraising of approximately €3 million in 2022 to accelerate growth and finance a pan-African expansion in West Africa.