Smartline Publisher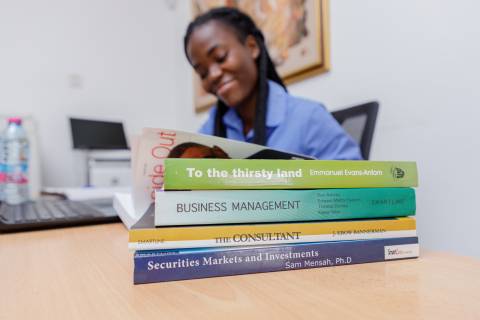 Associed fund
:
I&P Education et emploi
Founded by Elliot Agyare, in 1996, Smartline Publisher is a Ghanaian book publishing company that also offers other services including publishing services, educational resource services, supply, and library consulting.
It offers a variety of genres such as picture books, textbooks for junior high school, senior high school, and tertiary, biographies, fiction, and non-fiction.
With over 1.5 million units sold, 350 titles published, a network of 120 secondary schools across the country, and displays on renowned e-commerce platforms such as Amazon, Amazon Kindle Store, BookNook, Jumia, African Books Collective, etc.), Smartline is well on its way to achieving its ambition of becoming a leading publishing house on the continent.
The Entrepreneur
Elliot Agyare is regarded as one of the most respected publishers in Ghana and on the African Continent. He has served twice as the President of the Ghana Book Publishers Association and is currently the President of the Commonwealth Book Publishers Association. He was a lead facilitator of the Association for the Development of Education and African Union workshop on National Reading Policies in Nairobi, Kenya in 2018 and Kigali, Rwanda in 2019. He was a presenter at the Sharjah Book Fair in 2019 and spoke at the World Bank in Washington on procurement for books. Elliot is also a board member of the University Press and Vice Chair of the board of the Ghana Book Trust. He has always been involved in advocating for the industry and has led publishing industry engagements with various past governments on policy issues regarding the industry and literacy. He holds a Bachelor's degree from the University of Science and Technology, Kumasi, and an MA in International Studies from the University of Salford, UK.
Partnership with I&P
Through its I&P Education to Employment program, I&P has committed to Smartline Publisher to:
⇒ Support the digitization strategy through equipment acquisition to support the production of e-books;
⇒ Publish textbooks adapted to the local needs, in collaboration with teachers and students;
⇒ Conduct research to ascertain the supply coverage of some textbooks in SHS, TVET and Tertiary schools in rural and urban areas and to assess the comprehension level of students to develop the offer accordingly;
⇒ Improve its practices for gender and diversity inclusion in its publications.
Expected impacts
⇒ Improving Ghana's quality of education
⇒ Increasing education accessibility in rural and urban areas
---
A company supported by the partnership between I&P and Mastercard Foundation
Since February 2021, I&P has partnered with Mastercard Foundation through its I&P Education to Employment initiative, a finance program aimed at improving access to relevant and quality education on the African continent.
The partnership between I&P Education to Employment and Mastercard Foundation specifically aims to support 30 education entrepreneurs in 3 target countries (Ivory Coast, Ghana, Senegal) over 3 years. The partner companies receive funding and technical assistance to support them in their digital transformation, resilience, and growth strategy as well as in the implementation of social inclusion and employability measurement mechanisms.
---
Read more about