Soafiary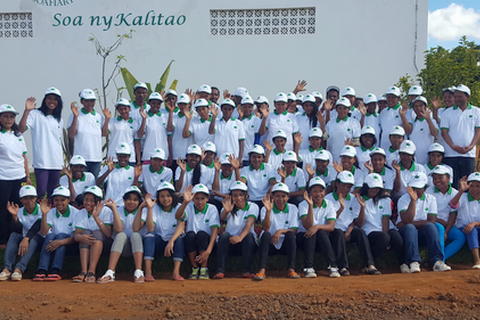 Status
:
Capital investment
Associed fund
:
I&P Expansion, IPAE 2
Entrepreneur
:
Malala Rabenoro
Founded in 2006 by the Malagasy promoter Malala Rabenoro, SOAFIARY is specialized in the sourcing, processing and commercialization of cereals (maize, rice) and leguminous plants (beans, cape peas, lentils, soybeans) on local and international markets. The company employs nearly 200 people, including 88% women.
Backed by a good reputation in this sector, the company begins to diversify its activities in 2017. SOAFIARY has set up a feed mill unit and has also launched the SOADIO project, a contract farming project run in collaboration with the diocese of the Vakinankaratra region, located in the highlands of Madagascar. The company trains the farmers and provides them with the agricultural equipment and inputs needed to operate the 4,100 hectares of land owned by the Diocese, and then buys the entire production. This project is a response to the challenges of traceability and product quality.
THE ENTREPRENEUR
The company was founded by Malala Rabenoro. With a background in marketing, Malala previously worked for an Microfinance Institution (MFI) where she gained more than 15 years of experience in administrative and personnel management. She left her position in 2011 to dedicate herself fully to SOAFIARY, where she manages the marketing, procurement and investor relations aspects of the business.
PARTNERSHIP WITH I&P
Soafiary is supported by the fund I&P Afrique Entrepreneurs 2 (IPAE 2). The partnership aims to:
⇒ Reviving the company's historical activity
⇒ Improving the quality management system
⇒ Supporting the company in the certification and standardization process (HACCP and Bio)
⇒ Developing the feed mill unit
⇒ Developing the SOADIO project
⇒ Strengthening corporate governance, Participating in management capacity building
⇒ Advising and supporting the company in its relations with investors and strategic third parties
EXPECTED IMPACTS
⇒ Promoting a committed female promoter
⇒ Creating jobs for a disadvantaged population with low education levels
⇒ Providing support to employees on literacy and hygiene-related issues
⇒ Supporting farmers through the SOADIO project
Inclusion of small producers in the value chain
Improving the living conditions of small producers