Stephaina Beauty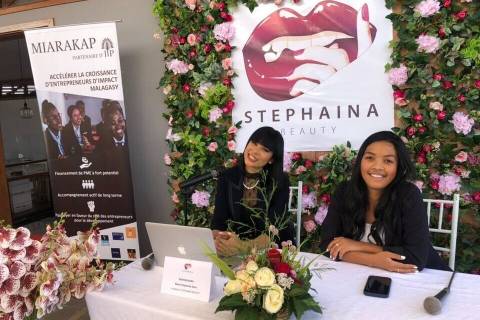 Status
:
Capital investment
Entrepreneur
:
Marie Stephanie Aina Raharijaona
Antananarivo & Toamasina
Created in 2009 by Marie Stephanie Aina Raharijaona, Stephaina Beauty is a chain of beauty parlors that offers a very complete range of cosmetic treatments, with a focus on nail care.
In 2021, more than 28,000 visits to the 4 Stephaina beauty parlors were recorded. A fifth salon should open in 2022 in the city of Majunga.
The entrepreneur
Stephaina was created by Stéphanie Raharijaona, who grew up in Antananarivo and followed a specialized training in nail prosthesis in Paris in parallel with her studies in interior design.
She opened her first salon in 2009, and had the capacity to finance herself already shortly after its opening. Stéphanie Raharijaona returned to France in 2015 to work as an executive assistant at UNESCO while managing her salon remotely.
She decided to return to Madagascar in July 2019, to both deploy the Stephaina salon brand and maximize its social impact through the professional training of young people: a mission that is at the heart of her vision and Stephaina's development model.
Partnership with Miarakap
Miarakap is committed to working with Stephaina to support them in:
⇒ The organizational structuring of the company
⇒ The development of the notoriety
⇒ The opening of 2 new salons per year
⇒ The launch of a range of Stephaina Beauty brand products marketed in the main salons
Expected impacts
Stephaina's main impact is on the social aspect via the creation of formal jobs, largely for young people who have left the school system or are marginalized. Thanks to a mentoring system within the salons, these young people without diplomas have the opportunity to be trained in the beauty industry and to be integrated into the workforce. With 10 salons open by 2026, Stephaina could create and/or maintain 230 jobs.
About Miarakap
Miarakap is the first impact investment company dedicated to financing and supporting Small and Medium Enterprises (SMEs) and high-potential start-ups in Madagascar.
Miarakap takes minority stakes in the capital of companies with high growth potential, for unit amounts ranging from 100 million to 1 billion Ariary, and provides strategic, managerial and technical support to its investments. As a player in impact investing, Miarakap's mission is to maximize its economic, social and environmental impact through its investments and to contribute to Madagascar's development.