Vatel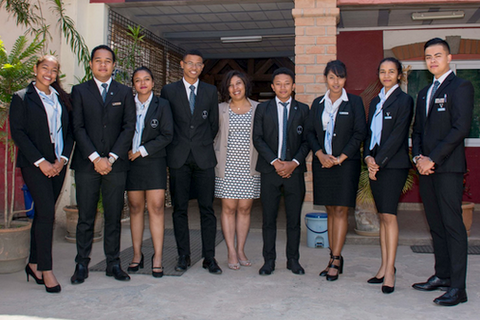 Status
:
Capital investment
Entrepreneur
:
Falihery RAMAKAVELO & Hanitra RAMAKAVELO
VATEL is a higher education school of Tourism and Hotel Management, a subsidiary of the Vatel group, created in 2014 by Falihery Ramakavelo and his wife Hanitra Ramakavelo. Vatel provides a Bachelor's level training in 3 years, and since 2018 a Master's level training (Bac+5) in 2 years, including a final year of specialization in Ecotourism, which will be launched in October 2019. Today, it counts 67 graduates (from the 2014 and 2015 classes) and 167 students in training. The main site is located in Ambatoroka, Antananarivo, and a new campus will be opened in October 2019 in Morondava to welcome the students of the Master Ecotourism.
With Miarakap funding, the promoters want to make Vatel a leading higher education group in the field of hotel and tourism in Madagascar, through:
- The strengthening and consolidation of the existing structure,
- The opening of a campus in Morondava to welcome students in the Ecotourism Master's degree, students from the local population in vocational training (partnership with UNESCO), and eventually an application ecolodge.
THE ENTREPRENEUR
Vatel is run by a couple: Falihery Ramakavelo, a graduate of ENA and the Special Military School of Saint-Cyr (France), he has several years of experience in Malagasy and French civil administration and as a senior manager of several Malagasy companies (BFV-SG, MAERSK, SIPROMAD); and his wife Hanitra Ramakavelo, graduate from the University of Angers (France) in Economic and Social Administration.
PARTNERSHIP WITH MIARAKAP
Miarakap's support mainly concerns:
• Funding for the renovation of the site in Morondava to accommodate the Master's degree in ecotourism,
• The financing of a technical assistance mission on project management for the construction works
• Support for the establishment of partnerships with NGOs specialized in Tourism and biodiversity conservation
MAIN IMPACTS
• Awareness and education on environmental issues, particularly biodiversity conservation,
• Strengthening the training offer on a priority sector in Madagascar
• Access to quality training for isolated rural populations (Morondava) through partnerships with international organizations such as UNESCO
• Environmental footprint management: solar installation on site
• Establishment of partnerships with professionals in tourism, education, crafts, etc.
• Establishment of socio-educational partnerships with funders