Afrique Créative : the entrepreneurs selected and reunited in Burkina Faso for a first bootcamp
Submitted by

Admin

on Thu, 11/07/2019 - 10:50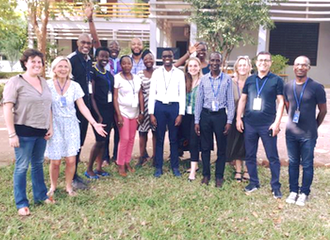 English
The winners of the Afrique Créative programme, funded by the French Development Agency and implemented by a consortium composed by I&P, AFRICALIA, Zhu Culture Officiel andBAYIMBA, have been officially selected.
The call for applications, which closed on 15 August, identified nine cultural and creative entrepreneurs from Burkina Faso, Morocco, Senegal and Uganda who will take part in this acceleration programme.

Learn more about it on Afrique Créative's website
Nine selected entrepreneurs operating in the cultural sector
In total, 85 applications were received, illustrating the diversity and dynamism of the creative field in Africa. After a national pre-selection phase, some twenty candidates were interviewed by the final jury held at the AFD in the third week of September.
Nine winners were selected. Thanks to Afrique Créative, the selected entrepreneurs will benefit from technical support by national and international experts via an online platform and two residential bootcamps, regular coaching, networking with both cultural and private sector operators and finally, a grant to accelerate the growth of their businesses, as well as specific support in raising additional funds. The selected entrepreneurs are :
■ Angèle DIABANG, who heads Karoninka, a production company that makes very commited films (Senegal)
■ Fatoumata PINDRA, President of Optimiste Productions, a structure recognized in the hip-hop world (Senegal)
■ Sébastien BAZEMO, better known as Bazem'Se, who designs ethical and chic fashion (Burkina Faso)
■ Soumaila KANLA, cabinetmaker and founder of Kalanexpo, who gives a second life to dead wood through its design creations (Burkina Faso)
■ Patricia DEFEVER, who founded the publishing house Langages du Sud (Morocco)
■ Brahim EL MAZNED, promoter of ANYA / Visa for Music, musical platform (Morocco)
■ Elijah KITAKA, founder of Fezah App, an application that will revolutionize the music industry (Uganda)
■ David MASANSO, who works wonders in the field of 3D animation with his company CROSSROADS DIGITAL MULTIMEDIA (Uganda)
■ Daudi KARUNGI, promoter of Afriart, a contemporary art gallery that highlights the talents of the future (Uganda)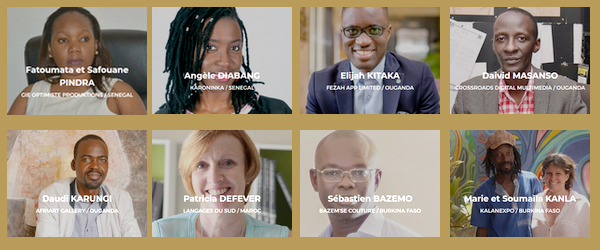 Discover their profiles on the Afrique Créative website
A first bootcamp organized in Burkina Faso
From 21 to 24 October, nine selected entrepreneurs gathered in Ouagadougou to attend the first bootcamp of the programme.
Facilitated in particular by Cécile Carlier, lthe sessions scheduled for he week helped strengthen entrepreneurs' capacities to develop their business models, implement marketing strategies, learn about relevant investment tools and intellectual property issues.