AMI's publishes the report 'Business Development Support in a Time of Crisis'
Submitted by

Admin

on Thu, 01/07/2021 - 11:55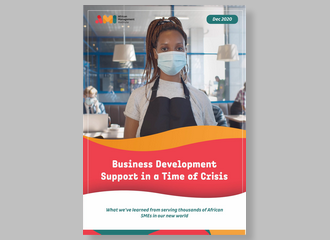 English
The African Management Institute (AMI) is a pan-African company that enables ambitious entrepreneurs and managers across Africa to thrive through practical tools and training.
In light of the Covid-19 crisis and its consequences for African SMEs, AMI has published a new report, titled 'Business Development Support in a Time of Crisis'.

Download the report
AMI believes that Covid-19 presents a unique opportunity for the re-shaping of support for micro, small and medium enterprises, at a time when entrepreneurs need support more than ever, challenging traditional thinking on everything from scale and geography to data and digital connections.
This report outlines AMI's learnings from serving thousands of entrepreneurs in 'new world' since March 2020, including:
Why virtual business development support, which has been the subject of much criticism pre-Covid, can be a higher impact format for entrepreneurs
Why Covid-19 presents a chance to address gender imbalance in access
Opportunities for deeper integration between Business Development Support and finance access to address the missing middle, supported by new data
Opportunities for pan-African programmes and geographical collaboration for SMEs
Why working with entrepreneurs on mindset and emotional intelligence is even more critical in tough times

Download the report