Entrepreneurs of the Afrique Créative programme respond to the Covid-19 crisis
Submitted by

Admin

on Mon, 08/03/2020 - 15:42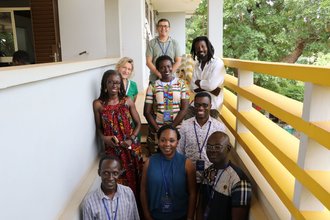 English
Following the Covid-19 global pandemic, all economic activities were slowed down, with international travel totally banned between March and June in France and Belgium. In the countries of our entrepreneurs, containment and curfews have been put in place. Remote working has become widespread in all companies. This unprecedented situation has forced organisers and entrepreneurs of the Afrique Créative programme to learn how to work and live in this context.
The Covid-19 crisis has indeed impacted the programme in several aspects. In particular, the second boot camp, planned in Uganda in May, had to be postponed and the in-person mentoring sessions were transformed into virtual sessions. The entrepreneurs also had to manage the stress related to the crisis, while adapting to the new constraints: remotely managing human resources, cash flow, customer and order handling, setting up health measures for staff, dealing with emergencies, etc.
All these elements added to the feeling of isolation of participants who found themselves far from their teams and clients. Remote work, for example, was sometimes made difficult by poor connections and lack of familiarity of employees with these practices. Faced with a lack of cash flow, loss of turnover and poor visibility, discussing a development plan became complicated.
However, this crisis has also proved to be a source of learning for increasingly agile project leaders! Entrepreneurs have shown incredible resilience: all of them have managed to organise their activities through remote working or in secure conditions. Some have shown social innovations with staff management. All of them have innovated on their products: live online concerts at Fezah, production of masks for Bazem'se, virtual visit of the Afriart gallery.
The entrepreneurs also took advantage of the period to plan what they usually did only between two trips. The Kalanexpo team worked on the development of an online sales site, just like Optimist Produktion's, and at Karoninka this necessary break was used to write a new series.
Finally, many have committed themselves within their community to face the crisis together. Langages du Sud launched an artistic expression contest for children on prevention in the face of Covid-19, and Crossroads Digital Multimedia organized free online animation courses that enabled it to reach participants across the continent.
The programme also adjusted to the context to continue supporting entrepreneurs, offering regular special Covid-19 exchange sessions between participants. Participants also took advantage of the programme's WhatsApp group to share news from their respective countries and their fears and concerns as entrepreneurs. The business mentoring also provided an opportunity to share on crisis management and to adapt the coaching.
These cultural and creative industries companies have thus shown themselves to be profoundly agile, innovative and even valuable support for some during this period. We do not yet know how to measure the impact of the crisis on these projects, and some activities are being challenged, such as the flagship Anya festival in Morocco. But businesses have withstood the shock and it is therefore essential, particularly at this time, to continue to support and assist these entrepreneurs in their resilience-building initiatives.
Going further
⇒ More information on the Afrique Créative programme