Supporting Education in Africa: Challenges and Opportunities for the Impact Investor
Submitted by

Admin

on Wed, 10/30/2019 - 18:02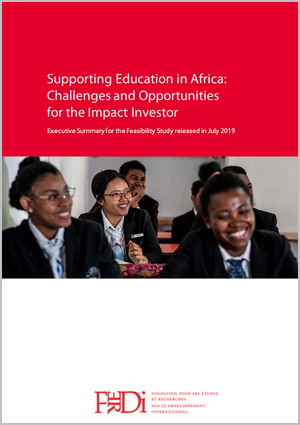 The feasibility study "Supporting Education in Sub-Saharan Africa" was conducted by the Foundation for Studies and Research on International Development (FERDI) as part of the new impact programme I&P Education to Employment, dedicated to education and professional training in Africa.

Click read to read more about I&P Education to Employment
Objectives of the feasibility study
• Gaining a better understanding of African challenges in regard to education
• Identifying good practice in education that could be developed and disseminated more widely by the private sector
• Analysing the economic models of private operators in education
Main Insights
As key deliverables, the study provides:
► A mapping of investments in private education, as well as a review of the dynamics of private education in five African countries (Burkina Faso, Côte d'Ivoire, Ghana, Madagascar and Maroc).
► A robust literature review highlithing impactful practices in education as well as possible perverse effects or unexpected outputs linked to private education.
► The study defines a new typology of education businesses and their expected financial and impact returns.
The study is available in different formats:

A summary report, available in French and English

The complete study (in English only)
Date publication
:
September 2019