I&P Acceleration in Sahel: A new call for applications for Investment Readiness training
Submitted by

Admin

on Wed, 08/17/2022 - 12:28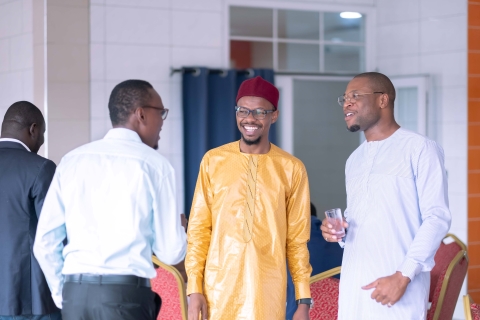 English
As part of I&P Acceleration in Sahel, funded by the European Union, I&P is launching a new call for applications for the second edition of Investment Readiness training. The second cohort, which will be selected in mid-September, will benefit from structuring training to better support SMEs and start-ups in Sahel sub-region.

Read the press release

Back to the first edition of the training

Learn more about I&P Acceleration in Sahel
Creating entrepreneurial SMEs in Sahel requires stronger partners and a better business climate
Launched in 2021, I&P Acceleration in Sahel aims to create innovative and competitive SMEs that promote growth and job creation in Sahel countries. This ambitious program is aimed at young companies in their launch phase, but also at incubators, acceleration centers, and start-up studios, commonly known as entrepreneurial support structures, which support entrepreneurs on a daily basis in their entrepreneurial adventure and in their search for funding.
Over the years, I&P has met many men and women involved in the entrepreneurial adventure in Africa. But all too often, in addition to the lack of access to funding and the shortage of middle management, the feeling of being alone, the lack of human resources and the lack of access to the skills of these support structures are elements that hinder the success of young companies in their launching phase. It is in this context that the Investment Readiness training program offers strategic support to private or public entrepreneurship support structures (incubators, accelerators, start-up studios) wishing to understand the financing and investment mechanisms of African SMEs.
Over a period of nine months, entrepreneurship support structures will benefit from a hybrid and certifying training program dedicated to the governance of a young company, its development project and its financing needs.
Which structures are eligible for Investment Readiness training ?
As in the previous edition, the Investment Readiness program is aimed at ESS that meet the following criteria
Located in one of the thirteen countries of intervention of the program: Benin, Burkina Faso, Cameroon, Chad, Côte d'Ivoire, Gambia, Ghana, Guinea, Mali, Mauritania, Niger, Senegal, Togo
Hold a formal legal status of association or company recognized by the authorities of the country of intervention
Able to produce financial statements for the two years preceding the year of selection
Ability to allocate staff and infrastructure to the implementation of program activities
Demonstrate significant experience in supporting businesses
Be in a phase of advanced reflection on its business support in financial matters
Will not be eligible:
Individual applicants, structures with less than two years of legally registered activity
Structures that do not currently offer any internal or external support on financial matters to their entrepreneurs
Structures that have less than two business support managers in their team
The deadline for applications is next Thursday, September 15.
To register for the training, click on the following link.
About I&P Conseil
Created in 2017, I&P Conseil is an entity of the group Investisseurs & Partenaires that fosters the emergence of entrepreneurship in Africa and helps local ecosystems to build better partnerships with investment funds. We draw on I&P's experience in impact investing to design the training programs of I&P Acceleration, targeted not only at entrepreneurs but also the at public and private intermediaries that are essential to their development. We also offer research and consulting services that integrate I&P's expertise in financing, formalizing, and measuring the impact of African SMEs.
About I&P Acceleration in Sahel

I&P Acceleration in Sahel is a program for start-ups and small and medium enterprises in West Africa with one main objective: to give them access to financing and the skills they need to enable their development and thus promote the creation of decent and sustainable jobs in the sub-region. Learn more about I&P Acceleration program in Sahel.