I&P completes a new exit: the Benin-based company Normat
Submitted by

Admin

on Thu, 12/16/2021 - 10:11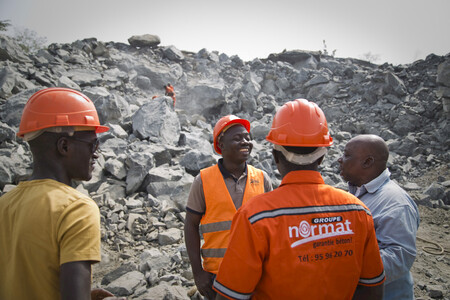 English
Since the first exit from the Mali based company CAMED in 2009, I&P has made 30 exits to date. We have published a summary note on our exit experience

, recalling the key issues and looking back at some emblematic exits, including Normat.
Normat is a Beninese company specialized in drilling, blasting and distribution of civil explosives (mainly used in mines and quarries and on some construction sites). The company was created in 2017 following the spin-off of this drilling-mining business from Bhelix, which operates several granite quarries in Benin and in which I&P invested in 2009 through the investment vehicle I&P Développement.
Less than 5 years after its creation, Normat is now a leading player and earned the trust of several Beninese industrial operators. Normat is ISO9001/2015 certified and offers services that comply with international safety standards for explosive blasting.
This spin-off was an operational success made possible by the agility and resilience of the company's promoter, Mr. Narcisse Zolla, who anticipated the need of other quarry operators to outsource their drilling and mining operations in order to focus on their core business. The contribution of I&P was also decisive in the execution of this strategy and in the structuring of this emerging SME.
A successful exit with a leading player in the sector
Normat is now moving into a new phase of its development with the entry in its capital of EPC, the world leader in the manufacture and distribution of explosives for civil use. EPC sees this acquisition as a continuation of their strategy to strengthen their position in the West African markets. The promoter Narcisse Zolla will remain a minority shareholder of the company and remain its general manager.
Bhelix was also a success. When I&P invested in the company, large construction companies were forced to internalize gravel production, as the gravel sector in Benin remained largely artisanal and informal. Today, these professionals trust Bhelix to realize this activity, because the company can meet the international quality standards. Mr. Zolla will become again the majority shareholder of Bhelix after the exit of I&P.
For an investment fund, exiting the capital of an African SME is often perceived as a difficult operation. This exit is a further demonstration of the relevance of I&P's model.
"I&P is proud to have supported Narcisse Zolla in the start-up of his two companies, their growth, their structuring and the conquest of a highly demanding markets, reinforcing on its scale the practices in Benin in the building and public works sector. By transferring Normat's capital to an international leader like EPC, while having Narcisse Zolla still in control, we are twice as successful in achieving our goal of an investment fund supporting African entrepreneurs."

Jérémy Hajdenberg, Co-Chief Executive Officer
"The entrepreneurial journey that I experienced with the support of I&P was particularly meaningful for me. This instructive and innovative support process demonstrates that the market, although small, still offers real development opportunities. This is why I thank I&P for its approach and encourage it to strengthen its action on this continent where everything remains to be done."

Narcisse Zolla, promoter of Normat and Bhelix
About I&P Développement
IPDEV 1 is a pioneering impact fund on the African continent, with an exceptional track record in private equity in Africa and a strong socio-economic impact.
IPDEV 1 was a pilot experience, essential to develop the model of Investors & Partners and to demonstrate the relevance of its investment strategy, based on the existence of talented African entrepreneurs seeking financial and strategic support to launch and develop their business. IPDEV 1 is in a disinvestment phase and has made more than 20 exits since 2012.