I&P organizes a masterclass dedicated to funding solutions for companies in Cameroon
Submitted by

Admin

on Tue, 07/27/2021 - 20:33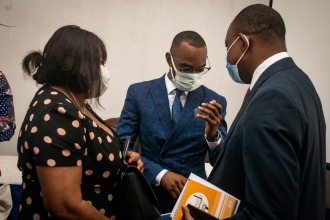 English
On July 21st, Investisseurs & Partenaires (I&P), in partnership with the Cameroon Chamber of Commerce and the European Union, organized a masterclass dedicated to funding solutions for SMEs in Cameroon ( from microfinance to equity investment). During this event, several financial and legal institutions as well as entrepreneurs shared their experience in order to draw up a complete panorama of traditional and alternative funding solutions available to companies according to their size and maturity.
A day of presentation and exchange around the financing available for Cameroonian SMEs
Under the moderation of Idriss Linge, editor in chief at the Ecofin agency, several round tables were organized specifically to answer the problematics of the "mature" companies but also of the smallest companies, and start-ups.
Several speakers were able to share their experience such as :
Constante Bihele, Head of Credit Department, ACEP Cameroon
Joel Sikam, director and founder of Fisco Sarl
Alain Kitty, financial expert
Aurélie Chazai, Managing Partner, Chazai & Partners
Salamatou Bantse, founder of Pomme Rouge, a car rental company
Elise Nyobe, Lawyer at the Cameroon Bar, AMADAGANA & PARTNERS
Arsène Tchassem Wotchap, Expert Consultant in Business Strategy
Jules Kembou, Program Officer for Private Sector Support, Delegation of the European Union in Cameroon
Practical workshops on the construction of a business plan and the sustainability of the company also allowed participants to better understand the key issues and the criteria for financing structures.
A focus private equity and seed financing from I&P
Vivian Tchatchueng, investment manager at I&P Cameroon, was able to talk about private equity in Cameroon (through IPAE2 fund), a financial tool that is still little known by Cameroonian companies. "The traditional funding system offers many more operating funding solutions, without supporting SMEs in their organizational and managerial transformation. Private equity comes precisely to offer the possibility of financing investments on the medium and long term; and in addition, accompanies each SME in the improvement of its governance, its structuring, its operation. The crucial and appropriate role of this mode of funding for SMEs in Cameroon," he said.
On the occasion of this awareness day, Christian Amouo came back to the seed financing, set up through I&P Acceleration in Sahel, a program financed by the European Union, which allows to offer the necessary funding to start-up companies.