New Crystal attains new ISO certifications
Submitted by

Admin

on Mon, 05/03/2021 - 12:01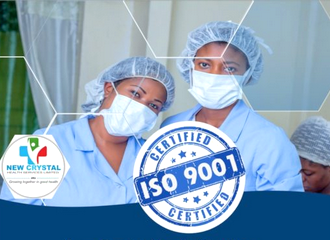 English
New Crystal Health Services, Ghana's leading private health care group dedicated to the urban poor, has recently attained ISO certifications in the following: ISO 9001:2015, ISO/IEC 27001:2013 and ISO 45001:2018.
This is an important step for New Crystal, financed by our fund I&P Afrique Entrepreneurs 2 since January 2020.

Read more about New Crystal

See New Crystal's website
Focus on ISO 9001
ISO 9001 is an international standard that specifies requirements for a quality management system (QMS). Organizations use the standard to demonstrate the ability to consistently provide products and services that meet customer and regulatory requirements.
ISO 9001 helped New Crystal to provide a practical and workable Quality Management System for improving and monitoring all areas of their business.
Implementing the ISO 9001 Quality Management System (QMS) has helped the company to focus on the important areas of its business and improve efficiency. The management processes that New Crystal has established throughout its business has provided a sound foundation, which should lead to increased productivity and profitability. This in turn will improve the customer satisfaction and retention. It has given New Crystal's customers confidence that they are working to standards and procedures that will provide them with a high standard of customer service.