Focus on SECAS, a Senegalese company promoting local cereals
Submitted by

Admin

on Thu, 07/29/2021 - 18:59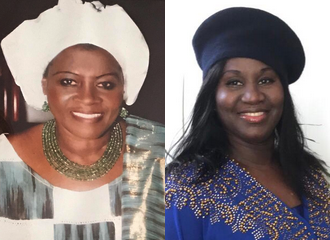 English
I&P met with Mrs. Bineta Koné Coulibaly, President of SECAS, and Mrs. Ndèye Anta Coulibaly Ba, General Manager. Launched in 1992, SECAS (formerly known as "La Vivrière") is a Senegalese SME specialized in the processing and marketing of local cereals. The company is supported by Teranga Capital, I&P's partner in Senegal, since 2019.

Read more on Teranga Capital

Find out more on SECAS
SECAS processes millet, corn, cowpeas and markets pre-cooked fonio and Baobab fruit powder. It offers a wide range of African and typically Senegalese products that are sold on the local market and exported to the European Union, the United States, Canada and the rest of Africa. Its products are sold under the brand name "La Vivrière wiiw".
Can you tell us more about your career and the development of your business?
It all started in 1992, when we launched La Vivrière, a small company specializing in the processing of local cereals. The products we offer, such as dehydrated and bagged millet couscous did not exist on the local market. The preparation of these cereals, often by women in the household, takes a lot of time and effort... And this led me to launch an activity that meets this need.
It takes some theoretical knowledge, but also some kind of boldness, to embark on an entrepreneurial adventure.
I enrolled in an economic sciences program, with a major in business management. After university, I did an MBA in business management for two years, then I had an eleven-year experience in a bank. It was tough to start my own business. I didn't dare to start it; I didn't know where to begin. The trigger was a USAID-funded entrepreneurship training course, which a professor encouraged me to take. As part of this fifteen-day internship, I formalized my entrepreneurial project and started the first activities of La Vivrière. Our products were of good quality and were quickly appreciated by consumers. The project was awarded the first prize at the end of this training.
Things then developed gradually. With a capital of 35,000 FCFA, and a production of 10 kilos per day, we started to distribute our products door to door, then we got our own store at the market of Tilène. Finally, our products found their way to the shelves of supermarkets. In order to create more jobs and mechanize the production, we applied for funding from organizations such as CDE, PROINVEST, USADF, AAFEX and CNCAS… In 2012, a collaboration with Root Capital allowed us to finance our annual supply of raw materials, to build two silos for their storage and finally to fit up a building to house the company.
27 years after our beginnings, in 2019, La Vivrière became SECAS-sas through a partnership with FONSIS and Teranga Capital. We've come a long way since our beginnings. Today, we count 74 people among our collaborators and we ensure a daily production of 3.5 tons with an average growth rate of 35% per year, covering a wide range of products, distributed locally and exported to the European Union, the United States, Canada and the rest of Africa.
"Starting with a processing capacity of 10 kilos per day and a capital of 35,000 FCFA, we now have more than 70 full-time employees and we ensure a daily production of 3.5 tons."
What did Teranga Capital bring to you?
Since 2019, as a co-shareholder but above all as a collaborator, Teranga Capital accompanies us on all our development projects, especially to reinforce our production and management capacities.
Our products sell very well and without any advertising campaign. The real challenge is our production capacity, which is still below the demand. Teranga's contribution in capital and shareholder loan allows us to build a new production unit, with more modern and efficient equipment. This financial contribution is also used for our working capital needs.
Teranga's contribution also goes beyond the financial support; it allows us to strengthen our governance and improve our internal organization.
I opened the capital of the company to my children. La Vivrière, by transformation of its social status, took the name of MANAFA-SEN-sarl and became the majority shareholder and the project manager of SECAS-sas (Société d'Exploitation des Céréales Africaines du Sénégal). Teranga allowed us to hire a service provider to optimize the management of the company and plans to extend its technical assistance to other areas such as training, marketing, etc.
"The partnership with Teranga Capital allows us to build a new production unit to meet our real challenge: our production capacity, which is still below the demand."
What were the main challenges encountered along the way?
To be honest, a business is mainly a list of problems to solve!
We have encountered two main challenges. The difficulty in recruiting staff on the one hand, especially for administrative and managerial functions, and the supply of raw materials on the other hand. For a long time, we bought directly from the market, but the raw material had many impurities. Thanks to Root Capital, we were able to contract with producers and cooperatives (GIE networks), which were trained by USAID's PCE to supply good quality raw material.
What are the impacts you are the most proud of today?
We are particulary proud of the contracts signed with the networks of local producers, with whom we have been working for several years now. This provides a living for thousands of families. We also take pride in the 74 people who form the large SECAS family. They all benefit from stable, formalized and permanent jobs.
On the economic side, SECAS participates in the creation of added value at the national level by providing high quality cereals, produced and processed locally. We encourage the population to consume local products rather than imported ones. Finally, we are very proud of the success of our products with the African diaspora around the world!
What advice would you give to young entrepreneurs?
I do believe that you must have a lot of perseverance to get through all the difficulties that will arise along the way. It is also essential to know how to respect your commitments, especially towards your clients. And above all, you have to be highly motivated and passionate about your project! We all have to start somewhere with almost nothing, it is a long-term work which is built and takes shape only with time.