African Management Institute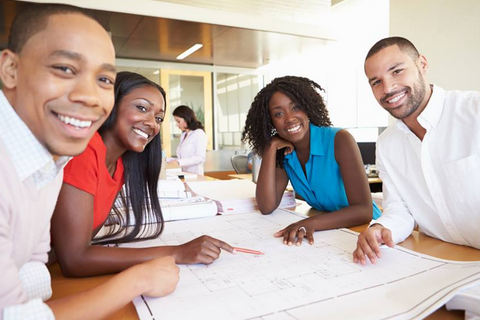 Status
:
Capital investment
Entrepreneur
:
Jonathan Cook, Rebecca Harrison
Launched in 2014, The African Management Institute (AMI) provides formalized training to empower managers and entrepreneurs.
AMI has developed over 45 practical business modules – including over 2,000 tools – with Africa's leading business schools and global experts on adult learning. AMI's training strategy and programs are based on a blended offer of both online material and in-person workshops with experts in their field.
Through its programmes, AMI aims to reach 20,000 people in 11 African countries.
THE ENTREPRENEURS
AMI was co-founded by Jonathan Cook and Rebecca Harrison.

Jonathan Cook is the current Chairman of AMI. He has over 25 year-experience in management education, facilitation, coaching and consulting. Prior to founding AMI, Jonathan spent almost 10 years at GIBS, one of Africa's leading Business Schools, where he served at various times as a senior lecturer, the Director of Executive Education, Academic Director, Executive Director and finally Director of the Business School until December 2013.
Before that, he spent 14 years as a faculty member at Wits Business School, where he founded the Management Development Unit and later became Director of Academic Programmes. He also spent 10 years with the National Institute for Personnel Research in Johannesburg. Jonathan continues to teach part time at GIBS in the areas of leadership and personal development, and is chief consultant of Thornhill Associates, where he advises companies in developing and implementing leadership development processes using customised 360-degree questionnaires.

Rebecca Harrison is the current CEO of AMI and has led the team since inception. Previously, Rebecca spent 9 years as a foreign correspondent and manager for Reuters News Agency, where she led business coverage in Africa and reported on politics, markets and development from 13 countries in Africa, Europe and the Middle East. Rebecca completed her MBA in Entrepreneurship at South Africa's Gordon Institute of Business Science, where she was awarded a Kellogg Foundation grant to conduct research into innovation in low-income markets. She is passionate about democratising skills development and supporting entrepreneurship in Africa through practical and affordable learning tools.
PARTNERSHIP WITH I&P
I&P committed alongside with AMI to:
• Help AMI further its reach in existing and new markets
EXPECTED IMPACTS
• Bringing quality education to middle management of African companies
• Delivering employability training programs and formation to entrepreneurship to the youth, women and a larger number of small-scale entrepreneurs