COFE CESA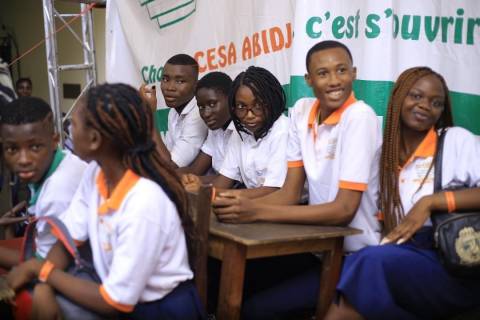 Associed fund
:
I&P Education et emploi
Entrepreneur
:
Akoun GOSSAN
Founded in 2001, COFE CESA is a higher education institution providing continuing training in various fields (communication, finance, networks and telecoms, etc.) and initial training to professionals.
Willing to provide a quality education oriented towards professional integration for vulnerable youth, the group's 3 campuses are located in Koumassi, Yopougon and Plateau Attécoubé, all economically fragile areas of Abidjan.
With 99% of students benefiting from social inclusion measures such as government scholarships or internal scholarships ( tuition discounts granted by the school), the school intends to revolutionize its environment.
THE ENTREPRENEUR
A dedicated individual, Akoun Gossan has over 50 years of experience in the higher education sector. He held various positions in the University of Abidjan and the Ecole Nationale Supérieure libriaries between 1968 and 1976. Thereafter, he was appointed head of documentation and instructor at the Centre Ivoirien de Gestion des Entreprises from 1980 to 1991. He was appointed Secretary General of the Union Patronale des Fondateurs de l'Enseignement Supérieur Privé de Côte d'Ivoire in 2001. Then, in 2019, as a reward for his commitment, he was named Officer of the Order of Merit of National Education by the Ivorian government. In 2001, he founded the COFE CESA group, which he headed until 2014 before entrusting the management to his son, Jean-Michel Gossan.
A graduate of the Pigier group, Jean-Michel Gossan worked for 5 years in France, before returning to Côte d'Ivoire in 2012. He joined the administrative team of COFE CESA in 2015 as a relationship manager, and was appointed General Manager of the group in 2015.
PARTNERSHIP WITH I&P
Through its I&P Education and Employment program, I&P has committed to Université des Lagunes to:
⇒ Reinforce their digital readiness by acquiring modern equipment and a stable internet access;
⇒ Strengthen the educational offer with the creation of a language center
⇒ Train career center agents in job integration practices related to the needs of the local job market
⇒ Promote access to education for girls from rural areas by increasing the capacity of dormitories
EXPECTED IMPACTS
⇒ Strengthen the local employability of young people
⇒ Enable young people, women, and vulnerable populations to access training that meets the needs of the Ivorian job market.
---
A COMPANY SUPPORTED BY THE PARTNERSHIP BETWEEN I&P AND MASTERCARD FOUNDATION
Since February 2021, I&P has partnered with Mastercard Foundation through its I&P Education to Employment initiative, a finance program aimed at improving access to relevant and quality education on the African continent. The partnership between I&P Education to Employment and Mastercard Foundation specifically aims to support 30 education entrepreneurs in 3 target countries (Ivory Coast, Ghana, Senegal) over 3 years. The partner companies receive funding and technical assistance to support them in their digital transformation, resilience, and growth strategy as well as in the implementation of social inclusion and employability measurement mechanisms.
---
Read more about