Ecole supérieure de Technologie et de Management (ESTM)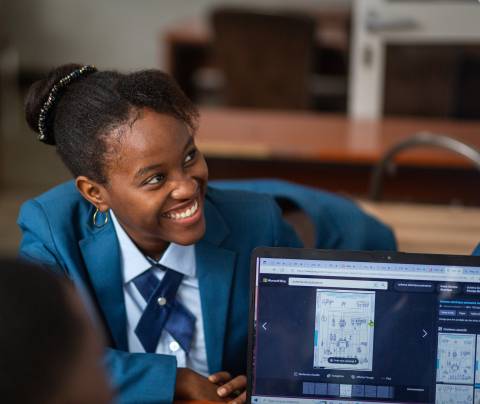 Associed fund
:
I&P Education et emploi
Entrepreneur
:
Ousmane Diene
Ecole Supérieure de Technologie et de Management (ESTM) is a Senegalese higher education institution founded in 2001 and based in Dakar.
ESTM provides initial training in the field of new technologies including telecommunications, computer systems security, electronic payments and secure transactions, etc.
It also provides certification training: Project Management Professional (PMP), Certified Associate Project Management Professional (CAPMP), and Cisco Certified Network Associate.
A distance learning offer is also available.
ESTM's ambition is to train responsible and enterprising professionals in line with the most advanced technologies and innovations.
With over 6000 graduates and more than 45 academic, academic, and business partnerships, ESTM has an employment rate close to 90%.
The Entrepreneur
Head of ESTM, Ousmane DIENE, is a computer engineer by training. He has worked for many years for the Cheick Anta Diop University IT department. In 2001, he founded the ESTM, with the support of university professors.
Partnership with I&P
Through its I&P Education and Employment program, I&P has committed to ESTM to:
⇒ Improve the quality of its training by creating new labs for the Multimedia and Renewable Energies programs and reinforcing the current facilities;
⇒ Support the digitalization strategy through the development of an e-learning platform and renovating its computer room;
⇒ The strengthening of their incubator;
⇒ Support the implementation of a scholarship program, especially for young women, and ensure sustainable funding;
⇒ Implement policies and practices to protect learners on campus.
Expected impacts
⇒ Improving the learning environment by upgrading labs and the strengthening of the school's digitalization strategy
⇒ Increasing the employability of young people with the relaunch of the incubator activities, aligned with the job market expectations;
⇒ Improving social inclusion, especially for young women;
⇒ Improved student protection through the implementation of a formal Safegarding policy;
---
A company supported by the partnership between I&P and Mastercard Foundation
Since February 2021, I&P has partnered with Mastercard Foundation through its I&P Education to Employment initiative, a finance program aimed at improving access to relevant and quality education on the African continent.
The partnership between I&P Education to Employment and Mastercard Foundation specifically aims to support 30 education entrepreneurs in 3 target countries (Ivory Coast, Ghana, Senegal) over 3 years. The partner companies receive funding and technical assistance to support them in their digital transformation, resilience, and growth strategy as well as in the implementation of social inclusion and employability measurement mechanisms.
---
Read more about the I&P Education to Employment program