iProcure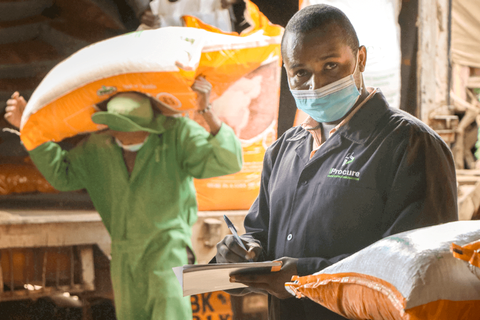 Status
:
Capital investment
Entrepreneur
:
Stefano Carcoforo, Nicole Galletta
Incorporated in 2014, iProcure is a Kenyan agricultural supply chain platform operating in rural areas within East Africa.
In addition to procurement and last mile distribution services to agro-dealers, iProcure provides business intelligence and data-driven stock management across the supply chains.
The platform offers a variety of services to consolidate the fragmented supply chain in rural areas:
Warehousing and last mile services: iProcure supplies fertilizers, seeds, animal feeds and agro-chemicals such as fungicides. The company buys the products from local manufacturers and suppliers and distribute them to distributors and retailers through 9 warehouses, 12 depots and 30 trucks
Data-Driven distribution: iProcure provides real-time business intelligence and helps distributors and retailers track sales, manage inventory and procurement
SaaS model: iProcure provides the software to their agro-dealers, together with a Point-of-Sale hardware. This is in the effort to digitize the sector, where information is generally inaccurate and unreliable. The Point of Sale platform helps to make the rural agro-dealers more efficient because they are able to track their sales, costs and inventory. The platform can also be used by other logistics and distribution players operating outside the agricultural sector
iProcure has started expanding to Uganda by installing the Point of Sale platform at the agro-dealers within the country, and will eventually launch a full scale expansion to Uganda and Tanzania. The company is also considering expansion to West Africa, using the vast experience they have already gained.
THE ENTREPRENEURS
The company was co-founded by Stefano Carcoforo and Nicole Galletta:
Stefano Carcoforo, born in Kenya, is currently the CEO of iProcure. Prior to founding iProcure, he worked for Philips Engineering as a Systems Engineer and for a number of large development projects in Cameroon and Haiti. He did his bachelor's degree in Mechanical Engineering and Masters in Business / Project Management
Nicole Galletta is co-Founder and Head of Innovation. She is responsible for onboarding retailers and distributors in Kenya and Uganda. Previous to founding iProcure, Nicole worked as an Urban Planner and GIS Expert for UN Habitat, and Geographic Information Manager for FAO. She has a Master's Degree in Urban / Environmental Planning
PARTNERSHIP WITH I&P
Supporting the growth of the company in East Africa, starting with Uganda
Further expansion into more counties in Kenya
Increasing the company's capacity to use data to make the operations more efficient
Supporting the company in their quest to brand their own products
Improving the website and social media presence
EXPECTED IMPACTS
iProcure improves access to essential products for the rural farming population
Digitisation of agro-dealers using iProcure's Point of Sale platform, which will over time, help to switch the agro-dealers from manual record keeping to digital records. This also helps the traders to forecast their inventory needs, and reduce pilferage within their shops
Increasing traceability of the agricultural inputs being sold to farmers – over time, this will help understand and reduce environmental impacts of these inputs
Growth of a Kenyan start-up expanding across East Africa and eventually West Africa, creating significant employment within the urban, and especially rural areas