Naïmadolls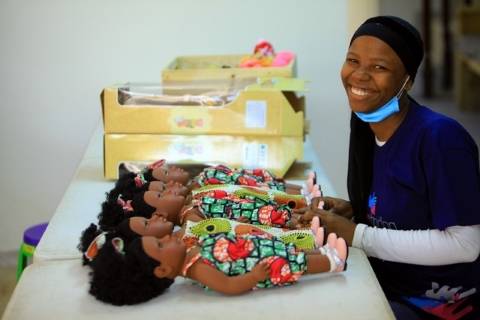 Associed fund
:
Comoé Capital
Entrepreneur
:
Sara Coulibaly
Created in 2015, Naïmadolls is a company producing toys (dolls) in Côte d'Ivoire. Today, Naïmadolls products are present in most of local stores (Prosuma, Super U, Casino, Carrefour, Librairie de France, La Grande Récré and Chico).
THE ENTREPRENEUR
Holder of a Bachelor's degree in Real Estate Management in 2010 at the Ecole Supérieure des Professions de l'Immobilier de Nantes, Mrs. Sara Coulibaly is starting studies in entrepreneurship. In 2013, she graduated at the top of her class from the University of Cergy Pontoise with a master's degree in business creation. Serial entrepreneur, Mrs. Coulibaly has 10 years of experience in business creation and management. She began with the creation of "my miry", a line of ethically inspired luxury shoes in 2009 before launching a chain of children's hairdressing salons "Kidsconcept", followed by the creation of Naimadolls in 2015. The originality of the Naimadolls concept earned it a 24th place in FORBES magazine's 30 Under 30 ranking.
CONTRIBUTIONS OF COMOE CAPITAL
Naïmadolls has been supported by Comoé Capital and the Agence Francaise de Développement (AFD) since 2020.
This support will contribute to the :
Reinforcement of the management team and internalization of the activity
Reinforcement of the logistics component (warehousing, delivery)
Strengthening governance
About Comoé Capital

Comoé Capital is the first impact investment fund dedicated to the financing and support of Ivorian SMEs and start-ups. Headed by Issa Sidibé, Comoé Capital is the fifth African fund sponsored by Investisseurs & Partenaires as part of the I&P Développement 2 fund. The fund network currently includes a fund in Niger (Sinergi Niger), Burkina Faso (Sinergi Burkina), Senegal (Teranga Capital) and Madagascar (Miarakap). →Site of Comoé Capital