PlayLabs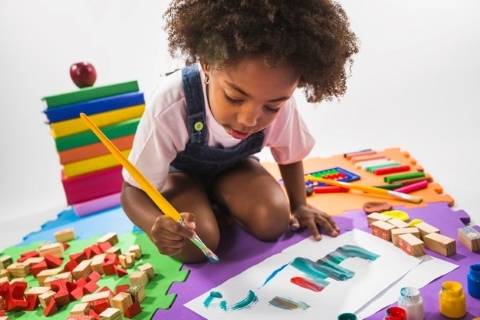 Associed fund
:
I&P Accélération au Sahel
Entrepreneur
:
Karima Grant, Chakera McInsosh
PlayLabs is a network of childcare centers and innovative nursery schools in Senegal.
These preschool institutions welcome children from 10 months to 5 years old, from Monday to Friday and from September to June. They provide children with adapted early learning activities answering their needs in terms of cognitive, socio-affective, and psychomotor development. The programs deployed in these institutions are aligned with the Senegalese education program (for kindergarten) but based on Regina Emilia's educational approach, which is innovative. It promotes learning activities through games, education projects sessions' organization, children's commitment to knowledge acquisition, and parents' active participation.
THE ENTREPRENEURS
The project is led by two entrepreneurs, Karima Grant and Chakera McIntosh.
Karima Grant is passionate about education and has accumulated a solid experience in this field thanks to numerous professional and association experiences. She notably has been the coordinator of an international baccalaureate program and has supported as a consultant the launch and development of three Higher Education Institutions in Senegal. Her experience and its association experience have contributed to making her a reference in the education field in Senegal and internationally. She is a member of the Ashoka network, which is an international network of social entrepreneurs who act in favor of social innovation.
Chakera McIntosh is supporting Karima Grant in this project. She has a Bachelor's Degree in International Communication from the American University of Paris (AUP) and a Master's Degree in Mitigation and Diaspora Studies from London University. She has worked for several years in the marketing and communication field.
PARTNERSHIP WITH I&P AND TERANGA CAPITAL
Kies is supported by Teranga Capital through the I&P Acceleration in Sahel program. This support will help the company in:
Stabilizing the existing infrastructure with the reinforcement of the current infrastructures (in Mermoz and Somone)
The implementation of an efficient marketing and business development strategy, the improvement of the company's organization with the formalization of its curriculum, procedures, training modules for facilitators, etc.
The strengthening of the accounting and financial functions and the reinforcement of the company's service offer
The deployment of two new daycare centers in 2022
ABOUT DE TERANGA CAPITAL

Teranga Capital is the first impact investment fund dedicated to financing and supporting Senegalese SMEs and start-ups.
Led by Olivier Furdelle, Teranga Capital is the third African fund sponsored by Investisseurs & Partenaires as part of the program I&P Development 2. The network currently includes a fund in Niger (Sinergi Niger), Burkina Faso (Sinergi Burkina), Côte d'Ivoire (Comoé Capital) and Madagascar (Miarakap).
Access Teranga Capital's website →