Université des Sciences de la Santé de Dakar (USSD)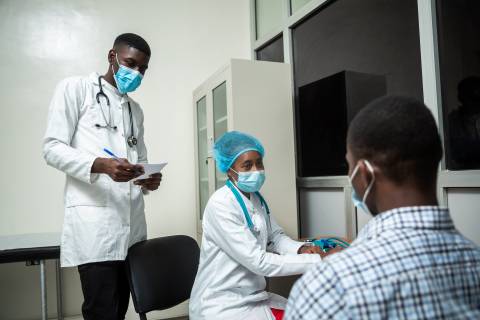 Associed fund
:
I&P Education et emploi
Senegal has several medical schools and faculties, well known in the sub-region. Among them is the University of Health Sciences of Dakar (USSD), a private institution created in 2016 by academics and members of the medical community eager to provide quality training to young aspiring health professionals. The university offers courses in the fields of medical sciences, pharmacology and dental sciences. USSD is driven by the values of excellence, responsibility and ethics.
THE ENTREPRENEUR
A graduate in military medicine and an associate professor in parasitology-mycology, Oumar Ndir undertook the creation of the USSD shortly after retiring, eager to train skilled health professionals adapted to local needs. He is in charge of the educational provision, the administration, and the financial activities.
PARTNERSHIP WITH I&P
Through its I&P Education and Employment program, I&P has committed to USSD to:
⇒ Strengthen the quality of teaching through the acquisition of equipment for practical training and the upgrading of the library
⇒ Diversify its training offer by offering intermediate degrees, more accessible to low-income students.
⇒ Support the digitalization and the development of blending learning, but also to integrate telemedicine, a first in Senegal.
⇒ Improve the well-being of students on campus by improving the security system, equipping the health clinic and purchasing vaccines.
EXPECTED IMPACTS
⇒ Increase graduates' employability through the development of an accessible training offer, in line with local needs.
⇒ Improve access to healthcare in rural areas through telemedicine.
A COMPANY SUPPORTED BY THE PARTNERSHIP BETWEEN I&P AND MASTERCARD FOUNDATION
Since February 2021, I&P has partnered with Mastercard Foundation through its I&P Education to Employment initiative, a finance program aimed at improving access to relevant and quality education on the African continent. The partnership between I&P Education to Employment and Mastercard Foundation specifically aims to support 30 education entrepreneurs in 3 target countries (Ivory Coast, Ghana, Senegal) over 3 years. The partner companies receive funding and technical assistance to support them in their digital transformation, resilience, and growth strategy as well as in the implementation of social inclusion and employability measurement mechanisms.
Read more
I&P Education to Employment program