I&P invests in Ghanaian company XpressGas
Submitted by

Admin

on Wed, 04/28/2021 - 18:01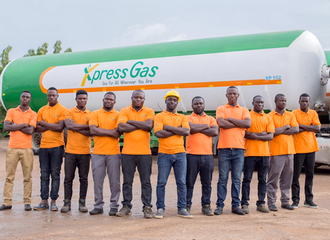 English
The fund I&P Afrique Entrepreneurs 2 welcomes in its portfolio the Ghanaian company XpressGas, a pioneering distributor of Liquefied Petroleum Gas. Also known as LPG, this fuel offers an efficient and environmentally friendly alternative, particularly for peri-urban and rural areas.
XpressGas is the tenth company funded by the IPAE 2 fund, which maintains an active pace of investment despite the Covid-19 context.
A leading and pioneering company in the energy sector in Ghana
XpressGas Limited is the fastest-growing and one of the largest LPG (Liquefied Petroleum Gas) companies in Ghana. The company currently owns 3 LPG refill stations, 23 LPG Bulk Road Vehicles, and serves a network of 53 third-party owned stations across all the regions of Ghana.
The main focus of the business is on the peri-urban and rural areas of the country, and this is in line with the Government of Ghana's stated objective to increase access to LPG by 50% in 2030. Liquefied Petroleum Gas (LPG) is increasingly becoming the preferred choice of fuel in the world and Ghana is moving in the same direction. The increase in patronage could be attributed to its affordability, efficiency and environmental friendliness. The impact potential of switching consumers from harmful traditional fuels such as firewood to LPG is significant.
XpressGas was launched in 2009 by M. Kofi Nketsia-Tabiri, who brings over 18 years of investing, business development and entrepreneurship experience to the management of XpressGas.
"The LPG industry in Ghana is currently at a transition point in terms of regulation. We are excited to partner with a stand-out entrepreneur who has positioned Xpress Gas to reflect what this pivotal moment demands: innovation, greater accessibility and higher safety standards. This investment furthers the impact thesis of the IPAE 2 fund, and draws from I&P's deep knowledge of supporting SMEs in Africa to thrive amidst evolving times."

Baafour Otu-Boateng, Investment Director, Ghana office

Click here to read more about XpressGas
In a context of a sharp slowdown in private sector investment on the continent, we continued to deploy the fund with successful and resilient companies such as Xpress Gas, and we are on track to significantly accelerate our pace of engagement with a heavy investment program in the coming months.

Sébastien Boyé, Chief Investment Officer

Read more about IPAE 2