"Lead Campus - Sustainable Leadership In Africa'': Mialy Ranaivoson and Job Zongo complete their journeys
Submitted by

Admin

on Tue, 05/17/2022 - 12:04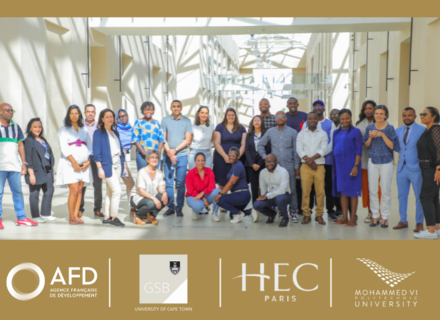 English
Mialy Ranaivoson and Job Zongo, respectively Investment Director of the IPAE fund and Managing Director of Sinergi Burkina, graduate with their "Lead Campus: sustainable leadership in Africa" 2022 executive certificates.
The closing ceremony of this second class, composed of 29 participants of 17 different nationalities, took place on the HEC Paris campus on Friday, July 8.
Read the Agence Ecofin's article about the graduation
Co-developed by HEC Paris, the French Development Agency (AFD) Campus, two African academic institutions (Mohammed VI Polytechnic University in Morocco and the University of Cape Town in South Africa) and Investisseurs & Partenaires (I&P), this program is designed for current and future African leaders and combines two perspectives: managerial excellence and sustainable development.
Lead Campus includes 5 training modules. This bilingual and certifying training, anchored in a sustainable and responsible growth entrepreneurship, intends to contribute to the transformation of the economy and the job market in Africa. It is intended for African leaders and future leaders in the private sector, public institutions, associations and humanitarian organizations.
About the Executive Lead Campus Certificate - Sustainable Leadership in Africa :
Focusing on the themes of leadership, general management and the management of a company, this program resolutely takes into consideration the specificities of the African continent. The issues and challenges of a continent in transition and the question of sustainable development (resource management, carbon footprint, social inclusion ...) preside over the understanding of new models of organizations more efficient, more responsible and more inclusive.
The program is aimed at leaders or future leaders of the African continent, from all walks of life: CEOs, Senior Executives and high potentials of African companies or international groups, Entrepreneurs, Executives of the administration, the public or para-public sector, association managers, NGOs.
Pedagogy
This program was co-constructed with AFD and two African academic institutions (UM6P in Morocco and UCT in South Africa). It combines two perspectives: managerial excellence and sustainable development. It combines academic contributions, HEC's expertise in the training of executive populations and visits, experiential interactions. It is itinerant and aims to inspire participants with the innovative practices of African actors, with a view to applying them to an individual project.