NOVAGO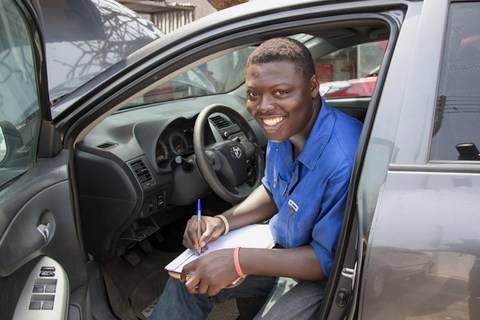 Status
:
Capital investment
Associed fund
:
IPAE 1, IPAE 2
Entrepreneur
:
Jérôme de Villard, Manuella Sako, Romain Pinto, Mohamed Ly, Ramatoulaye Balde
NOVAGO (formerly known as "VRS") is a company with 20 years' experience in the field of full service long-term vehicle rental.

Created in 2004 by two French entrepreneurs, Pierrick Morier and Thomas Crand, NOVAGO has grown to become a key player in the long-term vehicle rental and fleet management sector in West Africa (Côte d'Ivoire, Senegal and Ghana), with a fleet of around 1,000 vehicles in 2023.
The company provides rental services for a wide range of clients, from professionals/SMEs to some of the larget international corporates based in West Africa. NOVAGO's activities include fleet management, vehicle maintenance and servicing, assistance and repairs, driver services and insurance.
NOVAGO plans to expand its activities in Benin and Togo.
The entrepreneurs
The management team consists of Jérôme de Villard, Chief Executive Officer of NOVAGO Africa, and Manuella Sako, Chief Financial Officer of NOVAGO Africa, Romain Pinto, Chief Executive Officer of NOVAGO Ghana, Mohamed Ly (NOVAGO Senegal) and Ramatoulaye Balde (NOVAGO Côte d'Ivoire).
The founders of the company, Pierrick Morier and Thomas Crand, are both members of the Board of Directors.
Partnership with I&P
I&P invested in the company in 2014 through its fund I&P Afrique Entrepreneurs, and reinvested with the fund IPAE 2.
Support by IPAE 1 (2014-2022)
⇒ The fleet managed by NOVAGO has grown from 80 to 800 recent, fuel-efficient vehicles.
⇒ Originally based in Ghana, the company has expanded its activities in Côte d'Ivoire and Senegal thanks to the support of IPAE 1.
⇒ I&P supported the implementation of a solid ESG plan for NOVAGO, symbolised by the launch of the first 100% electric vehicle in Côte d'Ivoire in 2023.
Ongoing projects (IPAE 2' investment)
In March 2023, NOVAGO completed a new round of financing with I&P (through IPAE 2) and Adiwale Partners. This new investment aims to :
⇒ Strengthen the company's business in its existing markets
⇒ Support NOVAGO's expansion into other West African countries
Key impacts
⇒ Creation of local standards within a nascent market
⇒ Development of a green cars offer
⇒ Pollution control policy (waste oil recycled) and implementation of a carbon offsetting strategy with the support of I&P and Ecosur Afrique
⇒ Improvement of employees' social conditions thanks to a healthcare system
---
Read more