I&P publishes its second global impact report
Submitted by

Admin

on Mon, 12/20/2021 - 18:52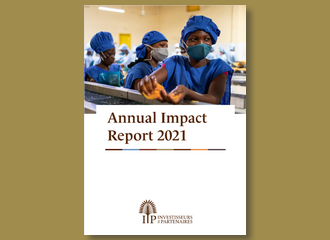 English
Investisseurs & Partenaires publishes the second edition of its annual impact report, a summary of our impact mission and the most significant achievements and progress made in 2021.
In a time period strongly marked by the Covid-19 crisis, I&P's teams have grown stronger, new projects have been launched and support for African entrepreneurs is more necessary and useful than ever.

Download the impact report
IN CONTENTS
I. Overview
Some key data and figures about I&P and our different investment ranges.
II. Analysis of the six main lines of our impact strategy:
(1) Developing African entrepreneurship
Supporting entrepreneurs rooted in the continent is at the heart of our mission. I&P focuses largely on the least developed or fragile countries in West Africa, the Indian Ocean and Central Africa. 87% of our portfolio companies are based in least developed or fragile countries.
(2) Creating decent jobs
I&P supports SMEs with high job creation potential and actively contributes to improving the quality of these jobs (formalization, health coverage, wages, working conditions, etc.). More than 7,000 jobs have been created or maintained within the companies financed by I&P.
(3) Providing goods and services that meet the Sustainable Development Goals
More than 70% of portfolio companies improve local access to essential goods or services, in line with the United Nations Sustainable Development Goals.
(4) Promoting gender equality
I&P's objective is to promote gender equality in formal SMEs in sub-Saharan Africa. We seek to proactively develop a network of SMEs that address women's specific needs, focus on women's inclusion, empower women in decision-making processes, and provide them with access to decent jobs and training opportunities.
(5) Strengthening the local economic fabric
The companies supported by I&P contribute to strengthening important local networks, thus creating new opportunities for small suppliers and distributors in the countries where they operate.
(6) Promoting sustainable growth
I&P promotes sustainable growth by investing in companies with low resource consumption and a limited carbon footprint. We believe that our partner companies can play an active role in experiencing and sharing replicable, efficient and renewable energy solutions.
III. Going a step further and strengthening our impact:
(1) Strengthening the entrepreneurial ecosystem
Given the considerable number of SMEs to be supported on a continental scale, a large number of players are structuring themselves to develop the private sector (incubators, gas pedals, public development aid players, investment funds, etc.). In addition to its financing activities, I&P provides support to these ecosystem players through its I&P Conseil department.
(2) Pleading the entrepreneurial cause in Africa
I&P is committed to a policy of proactive advocacy for the recognition of SMEs as vectors of change and the promotion of adapted financing solutions in Africa.
IV. Focus on the consequences of the Covid-19 crisis
Sub-Saharan Africa has been hit hard by the COVID-19 pandemic, with business activity in the region declining by approximately 3.7% in 2020. We highlight the main impacts of the pandemic on portfolio companies, and I&P's responses since 2020 to help companies cope.
V. Understanding our impact methodology
I&P has put in place a rigorous methodology to measure and monitor the impacts of its partner companies.
GOING FURTHER
⇒ Learn more about our impact strategy
⇒ Download the latest impact report for IPDEV 2 program
⇒ Download the impact reports for the IPAE 1 and IPAE 2 funds