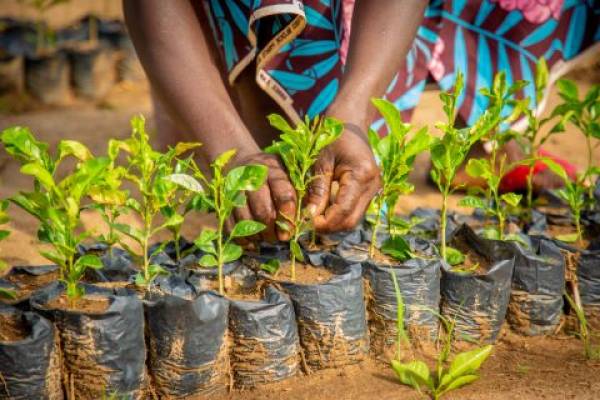 Sector of activity
:
Agriculture, Cosmétique
Status
:
Financement d'amorçage
Entrepreneur
:
Pierre Yves N'Goran et Karl Akueson-Gannyi
A propos
:
Épices et Essences de Côte d'Ivoire (E'Sens) specializes in the production of citrus essential oils (bigarade, bergamot). The company sources its essential oils from a network of 80 small-scale producers in Côte d'Ivoire, revitalizing a production that had been abandoned.
Watch our video report on E'Sens
The Entrepreneurs
E'Sens was created in 2016 by two young Ivorian finance professionals who saw the potential of an industry that had been abandoned in the Bas Sassandra region.
Pierre-Yves N'Goran (Co-founder and Executive Director)
He holds a Master's degree in International Business from Hult International Business School, London, England. Between 2011 and 2014, he participated in several professional finance rotation programmes, notably at the African Development Bank (AfDB) and Ace Global Depository. In 2014, he returned to Côte d'Ivoire where he held the position of Credit Analyst at NSIA Banque Côte d'Ivoire for four years. Today, he is co-founder of E'Sens and is in charge of running the business full time as the company's Executive Director.
Karl Akueson-Gannyi (Co-Founder)
After graduating in chemical engineering with a Master's degree in Finance in England, he worked for several years at BMO Capital Markets, London (investment bank specialising in mining and oil operations - finance and M&A department). In 2014, he decided to return to Côte d'Ivoire and set up his own business by creating the financial group La Financière de l'Eléphant (LAFINELE), which advises, designs and creates companies to carry out several projects, particularly in mining, agriculture and technological innovation. Karl co-founded the company E'Sens in 2016.
I&P support
E'Sens benefits from the seed funding of the I&P Acceleration in Sahel programme which is implemented in Ivory Coast by Comoé Capital sponsored by I&P. The objectives are :
increase the company's efficiency and optimisation of logistics
increasing the area of E'Sen plantations
support and evaluation of environmental and agronomic issues
Expected Impacts
Creation of new jobs
Support for the network of small producers with whom E'Sens works
About I&P Acceleration in the Sahel
The I&P Accélération au Sahel program, supported by the European Union, is aimed at start-ups and small businesses in the Sahel region, with one main objective: to give them access to the financing and skills they need to enable their development and thus promote job creation. Find out more →
About Comoé Capital

Comoé Capital is the first impact investment fund dedicated to financing and supporting Ivorian SMEs and start-ups. Headed by Issa Sidibé, Comoé Capital is the fifth African fund sponsored by Investisseurs & Partenaires as part of the I&P Développement 2 fund. The fund network currently includes a fund in Niger (Sinergi Niger), Burkina Faso (Sinergi Burkina), Senegal (Teranga Capital) and Madagascar (Miarakap). Comoé Capital website →