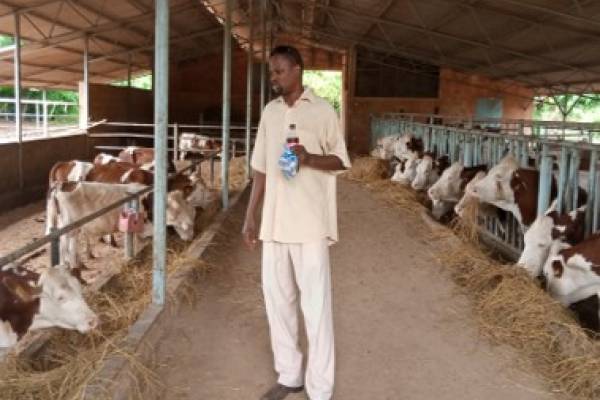 Sector of activity
:
Agro-food
Status
:
Financement d'amorçage
Entrepreneur
:
Mauhamed Lamine SY
A propos
:
Afrik Bovia is a cattle farm created in 2011 by Mauhamed Lamine SY specialized in the production of cow's milk, located in Bobo-Dioulasso, the economic capital of Burkina Faso.
THE ENTREPRENEUR
Holder of a high school diploma from the Islamic University of Medina, he has several experiences in food and dairy production. He worked as a representative in Riyadh of the French company SIBERT PATENT specialized in the production and installation of horticultural greenhouses but also as a fruit and vegetable import manager at SHADEL COMPANY in partnership with Flex Faso. In 2006, he launched into entrepreneurship by creating GULF AFRICAN GROUP, a company specialized in the export of mango and beef.
CONTRIBUTIONS BY SINERGI BURKINA
Afrik Bovia is supported by SINERGI BURKINA as part of the I&P Acceleration program in the Sahel, with funding of 57,000 € (36,575,000 FCFA).
The main objective of this partnership is to :
To have adequate material and human resources for the establishment of a production unit of yogurt and pasteurized milk (semi-handcrafted dairy).
Set up the yogurt and pasteurized milk production unit to enable the company to enhance its production and create more added value
Penetrate and conquer the market for cow's milk dairy products (100%) in the project area and more generally in Burkina Faso
Set up an internal accounting system kept by a professional
EXPECTED IMPACTS
Formalization of 10 existing jobs and the creation of 9 new formal and decent jobs for women and young people
Contribution to the national economy through the payment of taxes to the tax authorities
Better structuring and organization of the company
Establishment of good governance
ABOUT SINERGI BURKINA

Created in 2014, Sinergi Burkina is the first impact investment fund dedicated to financing and supporting SMEs and start-ups in Burkina Faso. Headed by Job Zongo, Sinergi Burkina is the second investment fund sponsored by Investisseurs & Partenaires as part of the I&P Développement 2 fund. The fund network currently includes a fund in Niger (Sinergi Niger), Côte d'Ivoire (Comoé Capital), Senegal (Teranga Capital) and Madagascar (Miarakap). → To learn more about Sinergi Burkina