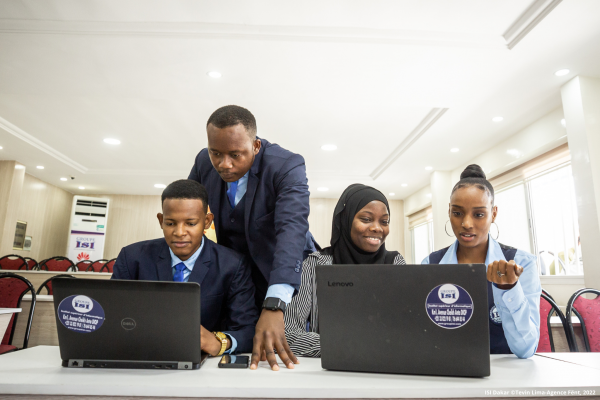 Sector of activity
:
Education & Training
Status
:
Financement d'amorçage
Entrepreneur
:
Abdou Sambe
A propos
:
The ISI group (Institut Supérieur d'Informatique) is a private educational group, founded in 1994. The group represents 2,500 students, spread over 9 campuses of which 7 campuses are located in Senegal and 2 in Mauritania. The ambition of the group is to participate in the training offer diversification in Senegal and the sub-region. The opening of campuses in the regions is a strong aspect of its strategy, willing to participate in the revitalization of the Senegalese regions. ISI Group offers training in 2, 3 and 5 years in the fields of computer engineering, networks and systems, and management.
In 2019, the group entered into a partnership with Huawei, one of the world's leading providers of infrastructure and smart devices in the field of information and communications technology (ICT). This partnership trains students in ICT and provides essential digital skills.
THE ENTREPRENEUR
An engineer by training and a graduate of Laval University in Canada, Mr. Abdou Sambe also holds a degree in business administration from Cheick Anta DIOP University in Dakar, Senegal. He has been leading ISI since its creation in 1994. The promoter has a very social vision for access to quality training for all, hence the decentralization of its campuses throughout the country for better social inclusion.
PARTNERSHIP WITH I&P
Through its I&P Education and Employment program, I&P is committed to working with the ISI Group to:
⇒ Supporting the development of online training.
⇒ Strengthen the school's resilience to the consequences of the Covid-19 pandemic.
⇒ Promote greater social inclusion within the school by revitalizing the employability of young graduates from regional campuses through the establishment of professional insertion space
⇒ Develop training offers suited to local labor markets' dynamics
EXPECTED IMPACTS
⇒ Increased quality of training and stronger employability of youth
⇒ Enhanced digitization and accessibility in the rural regions
⇒ Improved sustainability of the regional campuses with more adapted offerings and lasting social impact locally
A COMPANY SUPPORTED BY THE PARTNERSHIP BETWEEN I&P AND MASTERCARD FOUNDATION
Since February 2021, I&P has partnered with Mastercard Foundation in its I&P Education to Employment initiative, a joint financing program aimed at improving access to relevant and quality education on the African continent.
The partnership between I&P Education to Employment and Mastercard Foundation specifically aims to support 30 education entrepreneurs in 3 target countries (Ivory Coast, Ghana, Senegal) over 3 years. The partner companies will receive funding and technical assistance to support them in their digital transformation, resilience, and growth strategy as well as in the implementation of social inclusion and employability measurement mechanisms.
Read more about the project
Senegal